Fairfax Slip and Fall Accident Lawyer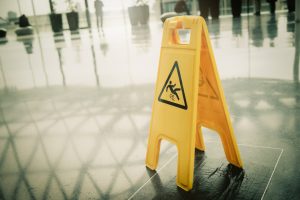 Slip-and-fall accidents can occur anywhere — in a grocery store, a shopping mall, a school, an office building or on a sidewalk. You injury could be caused by a defect in the flooring, a spill in an aisle, inadequate lighting, uneven sidewalks.
If you or a loved one has been injured in a slip-and-fall accident, contact Hilton & Somer, LLC today to see if you have a case against the property owner. Call our Fairfax, VA Slip and Fall Accident attorney at 703-782-8349. Se habla Español.
Property owners are required to use reasonable care in the management and maintenance of their buildings. If you have been injured in a slip-and-fall accident, you have to prove to that the property owner knew or should have known about the dangerous condition on their property and failed to fix it. Slip-and-fall cases can be difficult to win in court, because there is no exact method for proving that a property owner knew about the danger on the property.
Our lawyers are experienced in handling personal injury cases involving all types of traumatic personal injuries, including:
Wrongful death
Brain injuries
Back, neck and spinal cord injuries
Injuries to children
At Hilton & Somer, we are proud of the quality of legal representation and the personal service that we provide to each of our clients. No matter the size of your case, you will always be considered a top client at our law firm. We will take the time to get to know you, learn about your goals and address your specific needs.
Hilton & Somer, LLC: Slip and Fall Attorneys in Fairfax, VA
To learn more about how our experienced sidewalk injury and Fairfax Slip and Fall Accident Lawyer can help you, contact Hilton & Somer, LLC at 703-782-8349. All cases are handled on a contingency basis, meaning you pay no attorney fees unless we are successful in obtaining compensation for you.