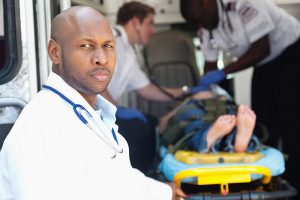 Most people think that with the proper preparedness and precautions, they can avoid any and all danger.
While it does pay to be prepared, there may be times in life wherein you simply cannot avoid an accident. In some instances, the negligence of another person can lead to life-changing injuries. In such scenarios, calling our Fairfax personal injury attorneys is necessary in order to get back on your feet financially. The last thing you want to do is suffer in silence with injuries you received due to the negligent actions of another party.
When faced with traumatic injuries, you need to contact the Fairfax personal injury attorneys at Hilton & Somer, LLC. For many years, we have helped accident victims receive compensation for their injuries. This financial gain is generally used to pay medical bills and help alleviate the monetary strain of having missed work due to traumatic injuries.
Taking on all of the financial burden that usually accompanies a traumatic personal injury can create a lot of problems in your life. With our help, you will be able to get the money you need to start rebuilding your life. We will work tirelessly to ensure that you are able to get the full and fair compensation that you deserve.
Details About Traumatic Personal Injuries
A traumatic personal injury is generally classified as an injury that produces trauma on both a physical and emotional level. There are a number of personal injury cases which include circumstances that can be devastating and make returning to work or even a semblance of normal everyday life nearly impossible.
We have helped numerous individuals suffering from intense traumatic personal injuries such as:
Injuries to the spine
Amputated limbs
Burn injuries
Loss of hearing or vision
Accidents causing paralysis
Hearing or vision loss
Facial injuries that leave severe scarring
Generally, the physical therapy involved throughout the recovery phase of these injuries can be substantial. Most people who experience these types of injuries will have their lives irreparably altered by the limitations they now face.

In most cases, these conditions can put a strain on the victim's relationships, due in no small part to the hardship it places on their family and friends. Usually, the treatments required to recover from such injuries can lead the victim down the road toward financial problems. If the injuries are severe enough, in which the victim has to stop working entirely, they will find themselves unable to provide for their families without legal help and support.
There are severe cases in which a traumatic personal injury could require a person to have around the clock treatment, which also creates a massive expenditure that may not be covered fully or at all by insurance providers. Instead of putting the burden of paying for these treatments on yourself or your family, you can pursue a lawsuit against the negligent party in order to receive fair compensation.
The personal injury attorneys in Fairfax, VA at Hilton & Somer, LLC. are passionate about helping victims of traumatic personal injuries in their pursuit of monetary compensation. Once we hear the details of your case, we can accurately advise you on what your next logical move should be.
Vehicular Accidents in Virginia
One of the most common ways in which traumatic personal injuries occur is through an automobile accident.
In the state of Virginia there are financial responsibility laws in place which state that the at-fault driver in a car accident will be burdened with the financial responsibility pertaining to the medical bills of any parties injured on account of their negligence.
Virginia is what is called a tort state (or at-fault state) in terms of liability in vehicular accidents. That means that any injured parties involved in a motor vehicle accident, including drivers, cyclists, pedestrians, and passengers, are within their rights to file a lawsuit against the at-fault party.
However, Virginia also follows a rule known as contributory negligence, which states that your right to receive damages from another driver is waived if you are found to be at fault in any way. For instance, if you are 25% at fault for an accident and the other driver is found to be 75% at fault, then you cannot collect any damages whatsoever from the other driver. Even being found 1% at fault in these cases is enough to destroy your lawsuit.
If someone dies as the result of a car accident in Virginia, the deceased's next of kin are within their rights to file suit against the negligent driver. This is called a wrongful death action and is used by families to receive compensation for the loss of their loved one, particularly if they were the main financial provider in the home. Some common damages associated with wrongful death actions include medical expenses, funeral costs, economic damages, and emotional pain and suffering.
If you live in the state of Virginia and your home or property have been damaged due to an auto accident, you can file a claim for the damaged property. All Virginia drivers are required to purchase property damage liability insurance in order to pay any third party repair bills. However, sometimes the at-fault driver's insurance company refuses to pay out, in which case the property owners are able to file suit against the insurance companies as well.
Vehicular Accidents in Maryland and Washington D.C.
Like Virginia, Maryland and Washington D.C. are "at fault" states when it comes to car accidents. That means that if you are seeking to bring a suit against a negligent driver who caused you personal injury, you have to prove that they were the one at fault.
Maryland and Washington D.C. also follow contributory negligence rules, which states that your right to compensation is nonexistent if you are found to be at fault in any way for the accident.
That's why it is so important to obtain sharp legal aid immediately following a car accident in either of these locations. It is on both you and your legal team to convince the court that you contributed nothing to this accident and you are 100% the victim. This can be difficult to prove, particularly if you've let too much time go by before filing your claim.
Maryland accident victims can receive economic damages including medical expenses, lost wages, and vehicle repair/replacement. Non-economic damages which can be sought in a Maryland personal injury lawsuit involving a car accident include physical pain, emotional distress, and the loss of affection or companionship.
Why You Need to Act Quickly Following Your Accident
One of the biggest reasons why you need contact our personal injury attorneys immediately following your accident is due to the statute of limitations, or time limits, put in place by the state regarding the filing of accident claims.
Waiting too long can cause you to miss out on the opportunity to collect fair compensation for your injuries. The statute of limitations for personal injury claims vary by state.
Virginia: In the state of Virginia, you have two years from the date of your accident or injury to file a claim.
Maryland: In Maryland, you have three years from the date of your accident or injury to file a claim.
Washington, D.C.: Just like in Maryland, Washington, D.C. gives you three years from the date of your accident or injury to file a claim.
There are some types of cases wherein the law will allow you to file a lawsuit after the statute of limitations has run out. These scenarios are very rare exceptions, which is why you need to call us and schedule a consultation immediately following an accident. We will be able to let you know what your rights are in order to help you put a price tag on the injuries you have sustained.
How We Help
We provide consultations to all of our prospective clients, after which we will help you determine the best legal course of action, laying out specifically what your best and worst case scenarios might be.
The first step in the process once we are brought on board is determining who was liable for your injuries, and how we can prove that. This is especially important in Virginia, Maryland, and Washington D.C. thanks to contributory negligence rules.
We must first establish that the negligent part was in the wrong and breached their duty, whether that is being a doctor and failing to provide adequate care, a driver not obeying the rules of the road, a dog owner letting their dog off of a leash, etc.
We must also prove that the injuries sustained were a direct result of the at-fault party's negligence and would not have occurred without their action or lack thereof. After that we get to work at proving damages, gathering evidence, and starting the negotiation process with insurance companies.
Why You Need Hilton & Somer, LLC. On Your Side
Our law firm has helped countless injury victims and can do the same for you. Attempting to handle these complex claims on your own may lead to you being under compensated or losing out on damages altogether. Our Fairfax personal injury attorneys will help to make sure that you get the fair settlement you are entitled to.
Contact us today at (703) 782-8349 and schedule a consultation to find out more about how we can help you. Don't suffer in silence, call us now and get the help you need.