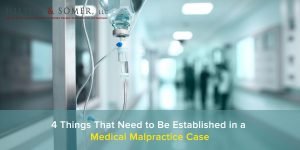 It is estimated that nearly 225,000 people die each year as a result of medical malpractice. Generally, these deaths are caused by things like medication errors, surgical mishaps and incorrect diagnoses. Do you think you have been the victim of medical malpractice? In order to prove medical malpractice, a variety of things need to be established. Read below to find out what you have to prove before filing suit against a medical professional.
Establishing There Was a Doctor-Patient Relationship
The first thing your lawyer will want to establish is that there was indeed a doctor-patient relationship between yourself and the medical professional you are attempting to file a lawsuit against. You will have to prove you hired the doctor and that the doctor agreed to be hired for the job of providing you with medical care. This stipulation is in place to prevent a person from suing a doctor that did not treat them directly or who acted as a consulting physician.
Proof of Negligence
There is a major difference between being unhappy with the results of a medical treatment and being the victim of medical negligence. In order to file suit against a doctor for medical malpractice, your lawyer will have to prove they were deliberately negligent in regards to a diagnosis or medical treatment. Proving a doctor acted in a negligent manner is a lot harder than you may think.
Usually, a lawyer will have to consult with medical professionals to find out what they would do in a similar situation. If the medical professionals advise your lawyer that there is no way a competent doctor would have made the mistakes the doctor in question did, then they will usually proceed with their lawsuit.
Making a Connection between the Doctor's Negligence and Your Injuries
Another important thing that has to be proven in medical malpractice cases is that the negligence your doctor showed caused the injuries you currently have. Usually, a lawyer will send you to a number of different doctor's to get paperwork showing your injuries were in fact caused by the negligent medical treatments received.
The Negative Effects Your Injuries Have Had on Your Life
When trying to come up with the right amount of money to go after, your lawyer will ask you a lot of questions about how your injuries have effected your life. One of the first things a lawyer will want to see are the medical bills you have garnered as a result of your injuries. They will also need to find out how much time you have lost at work. Once the lawyer has all of this information, they will be able to get a ballpark figure on how much monetary compensation you are entitled to.
Call Us Now!
If you have been the victim of medical malpractice, then you need to call Hilton & Somer, LLC now to schedule a free consultation. During this consultation, we will be able to find out the details of your case and let you know how we can help you in your pursuit of compensation.