Need a Fairfax Motor Vehicle Accident Lawyers? Contact Hilton & Somer, LLC. Today!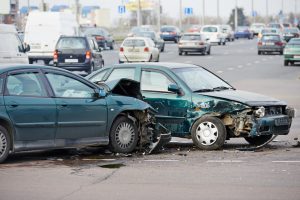 Being injured in a car accident is all too common. Some people get so comfortable behind the wheel that they fail to realize just how dangerous the roadways in their area are. There are a number of different things that can cause car accidents. Distracted and reckless driving are some of the most common factors that lead to car accidents. The injuries you sustain from a car accident can be quite substantial. In some instances, the injuries you sustain may prohibit you from working. If you are out of work and swimming in medical bills after a car accident that wasn't your fault, you need to contact a Fairfax car accident lawyer at Hilton & Somer, LLC. today!
Since 1965, our law firm has been helping accident victims get the money they need to pay their medical bills following a car accident. On numerous occasions, our law firm has been recognized by various publications for our achievements in the personal injury law field. In 2004, founding partner Robert Somer was chosen as the top personal injury lawyer in the D.C. Metropolitan area.
We Handle a Variety of Motor Vehicle Accidents
When choosing our law firm, you will be getting help from experienced professionals who can help in a number of different motor vehicle accident cases. We handle a wide range of motor vehicle accidents like:
Accidents involving mass transit
Bicycle and pedestrian accidents
Drunk driving accidents
Airplane/aircraft accidents
Accidents involving uninsured drivers
At Hilton & Somer, LLC, we aim to provide our clients with the best possible experience possible. We will be there with you every step of the way and can advise you on what you need to do to get the compensation you are owed. Our lawyers will fight on your behalf to ensure you get the money needed to put your life back together following a car accident.
Why You Need a Car Accident Attorney on Your Side
You may be wondering why you need to hire our firm to help you handle your car accident case. When hiring us, you will be able to take advantage of a number of things like:
Our Thorough Understanding of Car Accident Law- There are a number of different laws and statutes in place that dictate how much compensation a car accident victim is entitled. Without extensive knowledge of this law, it will be hard to get the right amount of compensation. Our team of experienced lawyers will work tirelessly to ensure you get what you are entitled to.
Help with the Insurance Claims Process- Filing an accident claim after a car accident is no easy job. In some cases, the insurance company may deny the claim you have made because they believe you were at fault. Our attorneys know how to deal with the insurance companies and get your claim approved. If your claim is denied, we will go to work fighting the insurance company on your behalf.
The Art of Negotiation- Most insurance companies try to settle these types of claims out of court. If you do not have a lawyer when negotiations with an insurance company start, you will find it hard to get a fair settlement. The team at Hilton & Somer, LLC will negotiate on your behalf. We have a lot of experience dealing with insurance companies and we will put that experience to work for you. Insurance companies love when a person negotiates on their own behalf because it is easier for them to undercompensate them. Let us help you get the compensation you deserve.
We Can Help Build Your Case- Proving the other party involved in the car accident acted negligently is no easy task. We have experience when it comes to building cases against negligent drivers. Our main goal is to create an iron clad case and get you the money you are owed to cover your medical expenses and pain and suffering. We won't let up until you get what you are entitled to.
We Are Here To Help!
One of the biggest misconceptions people have regarding hiring a lawyer to help with a car accident case is that they will have to pay money up front. At Hilton & Somer, LLC you will not have to pay a dime unless we get you a settlement. This means you do not have to worry about any upfront fees. If you have questions regarding what we can do for you call us now at 703-782-8349 to schedule a consultation. During this consultation, you will be able to ask any questions you may have regarding our experience and how we will handle your case. All of the consultations we offer are free of charge and designed to give you the answers you are looking for.