Fairfax Pedestrian and Bicycle Accident Attorney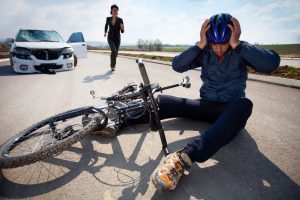 Many people choose to walk or ride bicycles for both transportation and leisure. If you go for a walk or a bike ride, the risk of injury is probably far from your thoughts. Unfortunately, a careless driver may collide with you out of nowhere.
Through no fault of your own, you will be thrust into the devastating consequences of a serious pedestrian or bicycle accident.
At Hilton & Somer LLC, we represent pedestrian or bicycle accidents victims throughout Washington D.C., Northern Virginia, and Maryland. Since 1965, we have sought full and fair compensation for clients who have suffered serious personal injuries. We also assist families who have lost a loved one in pursuing wrongful death lawsuits.
To arrange a free initial consultation with an experienced attorney, please contact our Fairfax, Virginia offices locally at 703-782-8349. Se habla Español.
Fighting for the Financial Compensation You Need
Pedestrian and bicycle accidents often result in extremely traumatic injuries. With little protection from a fast-moving car or truck, accident victims can suffer fractures, traumatic brain injuries or even paralysis.
Medical bills can also add up very quickly in the wake of a serious pedestrian or bicycle accident. These expenses can make day-to-day living very difficult and the accompanying stress can impact not only the injured person, but his or her family as well.
By pursuing a personal injury claim against the driver responsible for the accident, we may be able to recover damages for both current and future medical bills, as well as funds for lost wages, and pain and suffering.
All pedestrian and bicycle accident cases are handled on a contingency basis, meaning you pay no attorney fees unless we are successful.
Contact a Lawyer Who Cares
If you or a loved one has suffered the consequences of a pedestrian or bicycle accident, you deserve an attorney who truly cares about you and your case. At Hilton & Somer LLC, we are committed to knowing our clients and their specific needs.
Your representation will be as unique as your circumstances. To arrange a free initial consultation to discuss your case, contact us toll-free at 703-782-8349.