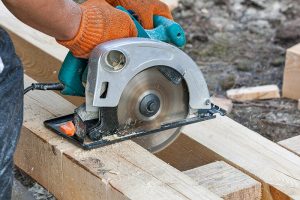 Construction work consistently tops the list of the most dangerous jobs in America. Across the country, hard-working construction professionals work every day to erect new buildings, maintain our nation's infrastructure, and build new homes for families. Theirs is not a desk job, and in most cases it's not even a job that offers shelter from the elements. They work in extremely hazardous conditions that require them to operate heavy equipment, scale heights, and constantly watch their footing.
Builders, construction companies, and construction supervisors have an obligation to make sure their work sites are safe. They must also adhere to government regulations that require them to provide their workers with the proper equipment, training, and safety protocols. Unfortunately, the push to build faster and to come in under budget sometimes causes companies to cut corners, leading to serious construction injuries and sometimes even fatal accidents.
At Hilton & Somer, LLC, our experienced construction accident lawyers help workers who have been injured on job sites in Virginia, Maryland, and the entire greater Washington, D.C. area. If you have been hurt on a construction site, protect your rights by speaking to a knowledgeable lawyer right away.
What Are Your Rights When You're Injured?
Getting hurt at work is always a scary experience. When your livelihood depends on your ability to climb a ladder or drive a forklift, a work-related injury is terrifying. How will you pay your bills when your physical injuries keep you in constant pain? Even worse, many construction workers are forced to jump through hoops just to get in touch with the company overseeing the project. In some cases, even knowing which party to sue can be difficult.

For construction professionals who have been injured at work, having an experienced construction accident attorney on your side can give you the peace of mind you need to focus on your physical recovery. When you're hurt, the last thing you need to worry about is standing up to a big corporation or construction company. Our skilled workers compensation attorneys are proud of the work we do on behalf of construction workers. We fight tirelessly to make sure they get the money they deserve to cover their bills and pay for their medical care.
If you have been hurt on a construction site, the first thing you need to know is that these cases can be exceedingly complex. Depending on the size of the project, there may be multiple defendants from several different states. You may also be entitled to file a workers' compensation claim for your injuries, and perhaps a third-party claim in cases where a third party's negligence caused your injury.
Get the Legal Help You Need to Win
You did the heavy lifting on the job. Let us do the heavy lifting in your construction accident case. We will walk you through each stage, so you never have to worry about what comes next, or what you should expect. We also receive nothing unless we are successful on your behalf, and you will never pay anything out-of-pocket when you work with us.
Hilton & Somer, LLC: Virginia, Maryland & D.C. Construction Accident Attorneys
Have you been hurt on the job? It's normal to have a lot of questions and concerns. Get the answers you need by calling experienced Fairfax construction accident lawyers. The attorneys at Hilton & Somer, LLC help individuals who have been hurt in construction accidents in Virginia, Maryland, and the metro D.C. area. Contact us today to receive your complimentary consultation. You can reach us through our online contact form, or by calling 703-782-8349.