Washington D.C., Lawyers Representing Those Injured in Mass Transit Accidents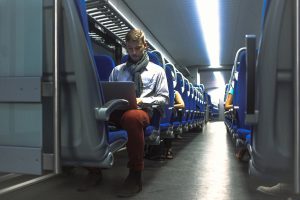 There are many reasons why people choose to use public transportation in Washington D.C., and the surrounding areas of Northern Virginia, and Maryland. Some wish to avoid the expense of buying a car and paying for gas. Others may be focused on the green movement, wanting to reduce pollution as much as possible. No matter the reason for using a train, bus or metro, thousands of people board each day, not expecting to become the victim of a mass transit accident.
Buses, subways and rail systems are not perfect. Defects or malfunctions can lead to disastrous results. Drivers or operators can act in a negligent manner, injuring their unsuspecting passengers.
If you were injured in a mass transit accident or lost a loved one, the personal injury and wrongful death lawyers at Hilton & Somer LLC can help. We have provided dedicated legal support to victims and their families since 1965. Our primary objective is always to secure the financial recovery our clients need to move forward with their lives.
To arrange a free initial consultation with an experienced attorney, please contact our Fairfax, Virginia offices at 703-782-8349. Se habla Español.
Seeking Justice for the Innocent
People using any form of mass transit do not anticipate being severely and/or permanently injured. They are simply attempting to go to work, school or home. At Hilton & Somer LLC, we understand the devastation that a mass transit accident can cause for a victim and his or her family. We aggressively seek justice in the following types of mass transit accidents:
Bus accidents involving school buses, charter buses, or public bus systems
Subway, train and metro accidents
Taxi cab accidents

Aviation accidents

involving airplanes and helicopters
All mass transit accident cases are handled on a contingency basis, meaning you pay no attorney fees unless we are successful.
Contact a Law Firm That Cares About You