Hilton & Somer, LLC Represent Accident Victims with Back, Neck and Spinal Cord Injuries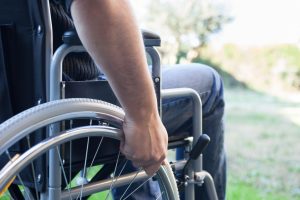 If you are like most people, you don't know how important your spine is all of your body's functions. However, you will realize it if you suffer a spinal cord injury. Even the most minor spinal cord injuries can result in long lasting pain and suffering. More severe injuries can leave you with permanent damage that will change your life forever.
The spinal cord injury attorneys at Hilton & Somer, LLC have decades worth of experience when it comes to personal injury cases. These range from medical malpractice lawsuits to truck accident lawsuits. Because our Fairfax attorneys have access to medical experts and the resources of a experienced, we are well able to help you collect compensation for your medical bills, your lost wages, your pain and suffering, future costs and needs and any other losses that you have experienced as a result of the accident.
If you have suffered a spinal cord injury that was caused by another person's negligence, you should contact Hilton & Somer, LLC today. They will give you a free review of your case and you can find out how one of the attorneys can help you.
What Causes a Spinal Cord Injury?
Spinal injuries can occur for a variety of reasons, however, according to the U.S. National Library of Medicine, the leading cause of spinal injuries in adults in the United States is motor vehicle accidents. Sporting accidents, falls, and acts of violence are also major causes of spinal injuries in the U.S., however, this is more common in younger individuals.
At Hilton & Somer, LLC, we have seen many ways that spinal cord injuries can occur. These include:
Sports injuries
Boating injuries
Gunshot wounds
Criminal violence and battery
Work related accidents
Not only are there plenty of ways that you can suffer from a spinal cord injury, there are also several different types of spinal cord injuries. These injuries include:
Fractured vertebrae
Injured nerves
Damaged Discs
Partial paralysis
Paraplegia
Quadriplegia
Spinal cord injury impacts
Lacerations
Central cord syndrome along with other debilitating conditions
Because the spine plays such a huge role in the body, other parts of the body can be affected if there is a spinal cord injury depending on what part of the spine was injured. If you injure your cervical spine which is located in the neck area, it would radiate into your arms and your hands. If you were to injure your lumbar spine in your lower back, you can develop symptoms in your legs. In certain cases, a spinal cord injury can result in incontinence and erectile dysfunction, among other conditions.
If you have a minor spinal cord injury, it would require varying forms of treatment. If the injury is severe, you may require surgery. For example, you may need to have two or more of your vertebrae fused together or have a faulty disc removed. If the spine is totally severed, there are no medical treatments available to repair the spine.
Each of these treatments is very expensive. The more severe your condition is, the higher your medical bills will be. You would be looking at the price of the surgery, the rehabilitation, and other future medical expenses. This can really add up quickly. Not only are you left physically damaged, but you can be financially destroyed as well.
Why You Should Hire Hilton & Somer LLC
A spinal cord injury case requires a lot of work. This includes a great deal of evidence gathering and research. A typical personal injury lawyer may not be able to build an effective case on your behalf. You would be better off hiring an attorney who specifically handles spinal injury cases.
At Hilton & Somer, LLC Every Client Is Important To Us
We strive to make ourselves accessible when you need us, promptly returning phone calls and e-mails. You will be involved in all decision making matters related to your back, neck or spinal cord injury case. Contact us at 703-782-8349 locally to find out how we may be able to assist you.