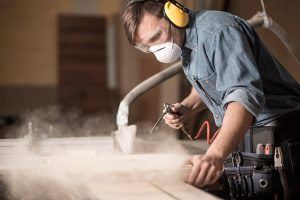 When you get hurt at work, it can feel like life screeches to a halt. Without money flowing into your household, it's hard to carry on with everyday life. And when you're injured on top of it, it's hard to know where to turn for help. At Hilton & Somer, LLC, our Fairfax, VA Workers Compensation Lawyer are committed to helping injured workers protect their legal rights and get the money they need to pay their bills and support their families.
Your Workers' Compensation Rights
The law gives the majority of injured workers the right to file a workers' compensation claim due to a work-related injury. Because workers' compensation is a no-fault system, you are entitled to compensation regardless of whether you were responsible for the accident that led to your injuries.
However, workers' compensation is a system that is also largely administered by insurance companies. What some workers fail to realize is that these insurance companies will do everything they can to find a reason to pay as little money as possible on your claim. In some cases, they may even deny your claim entirely.
Workers' compensation is also governed by complicated rules. There are rules that dictate how long you have to file a claim and how you must report your injury. There are also rules for submitting proof of your injury and even rules for which doctor you're allowed to see. For the uninitiated, it's easy to feel like you're fighting a losing battle.
The good news is you don't have to face the workers' compensation claims process alone. Our experienced workers' comp lawyer will explain the steps involved in filing your claim, and we will keep you informed at every stage in your case. You will never have to wonder when you can expect a payment, or where your case stands.
Get the Workers' Compensation Benefits You Deserve
Work-related injuries can take many forms, from a slip-and-fall on a factory floor, to exposure to toxic chemicals. Work injuries can also happen in any type of workplace, including offices, schools, and in company cars. Depending on the nature and severity of your injuries, you may be entitled to benefits that cover:

Wage replacement
Medical bills
Rehabilitation
Temporary partial disability
Temporary total disability
Permanent partial disability
Permanent total disability
In the most tragic cases, a worker is killed on the job. In these cases, workers' compensation may also cover funeral expenses. Although you aren't required to have a lawyer when you apply for workers' compensation benefits, having legal help can mean getting a more favorable result in your case. It can also speed up what is often a long and arduous process, so you're not forced to wait for the money you need.
Our Attorneys are strong allies for people who have been hurt on the job. We will help you at every stage of your case — keeping you up to date, making sure you understand your options, and helping you make informed decisions about how to proceed in your case. Getting hurt at work can be scary. Working with an experienced Fairfax Workers Comp Attorney can ensure that the path to getting your benefits is a smooth, worry-free process.
Hilton & Somer, LLC: Fairfax, VA Workers Compensation Attorney
If you have suffered an on-the-job injury, don't go it alone. Help is available today. Get in touch with the Fairfax Workers Compensation Lawyer at Hilton & Somer, LLC today to discuss your case with one of our Virginia, Maryland, or Washington, D.C. workers' compensation Attorneys. You can reach us through our online contact form, or by calling 703-782-8349.