Virginia Brain Injury Attorney Helping Victims of a Traumatic Brain Injury (TBI)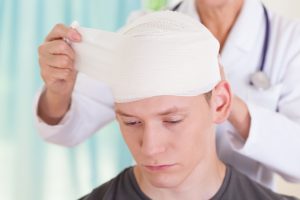 Being involved in a serious accident often results in serious injuries. We expect victims to come away with cuts, gashes, bruises and sometimes broken limbs. However, a closed head injury or traumatic brain injury (TBI) rarely makes itself known at the scene of the accident. It can be days, weeks or even months before symptoms start to appear and change the accident victim's life.
At Hilton & Somer, LLC in Fairfax, Virginia, we represent individuals involved in accidents throughout the Washington D.C. area, Northern Virginia, and Maryland. Having practiced since 1965, we are well aware of the devastating effect that a traumatic brain injury (TBI) can have on a person and their family. We strive to hold the at-fault parties fully accountable for their reckless or careless actions.
To arrange a free initial consultation to discuss your accident and injury, contact Fairfax Brain Injury Attorney at 703-782-8349. Se habla Español.
The Cause and Effect of A Traumatic Brain Injury (TBI)
A traumatic brain injury (TBI) is most commonly caused by blunt force trauma to the head in a car accident, truck wreck or motorcycle crash. Yet no matter the exact cause of the traumatic brain injury, the aftermath is never easy. Many victims of a TBI require life-long care and experience the following symptoms:
Constant headaches
Memory loss and confusion
Difficulty with verbal or motor control
Behavioral problems and mood swings
Visual and auditory difficulties
Those with a traumatic brain injury may be unable to return to their former lifestyle or previous employment. This can put an immense financial strain on family members who must now find a way to cope with these losses.
All traumatic brain injury cases are handled on a contingency basis, meaning you pay no attorney fees unless we are successful.
Fairfax Brain Injury Lawyer
 Taking legal action against the person or company responsible for a traumatic brain injury (TBI) will not change what has happened and cannot cure you or your loved one's condition. It can, however, ease some of the struggles you are facing. Securing compensation can help lessen some of the financial burden and provide a much-need sense of justice.
Contact Hilton & Somer, LLC at 703-782-8349 to discuss how we may be able to help you move forward.