Fairfax VA Premises Liability Lawyers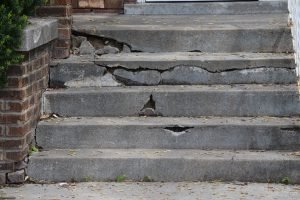 The law requires property owners to look after their property. From private homeowners and retailers to movie theaters and shopping malls, the owners and managers of buildings and land have a responsibility to take reasonable steps to keep their property free of hazards that could cause injuries. When a property owner neglects to maintain his or her property, individuals who get hurt on their land may be eligible to receive money damages for injuries caused by this negligence.
Slip and fall cases are a major category within premises liability law, however, there are many other types of injuries that can fall under this kind of claim. At Hilton & Somer, LLC, we assist clients who have been hurt in shops, amusement parks, condos, golf courses, and other types of properties. If you were injured on someone else's land, don't suffer the consequences of their negligence. Our negligent security lawyers can help you get the money you need to cover your medical bills, the costs of your future care, and the many other expenses associated with a serious premises liability injury.
Help for Slip and Fall Cases
Live in Maryland, Virginia, or Washington, D.C. long enough, and you will invariably witness a wide variety of extreme weather conditions, including ice, snow, and heavy rain. In some cases, slips and falls in the winter are simply a combination of slippery sidewalks and bad luck. In other cases, however, an individual slips, trips, or falls because a property owner failed to perform regular maintenance. From accumulations of slush in store entrances to wrinkled area rugs, slips and falls can occur any time a property owner fails to make sure his or her property is free of unreasonable hazards.
Although many people dismiss slips and falls as minor accidents, it only takes one nasty fall for naysayers to understand exactly how devastating a slip and fall accident can be. In fact, falls are the leading cause of traumatic brain injuries in the elderly and a top cause of work-related injury across all age groups.


Other Premises Liability Claims
Many other types of accidents can give rise to a premises liability claim.
Landlords and property managers. For example, a landlord has a legal duty to keep rental units and common areas in a reasonably safe condition. Residents and visitors to an apartment complex can get injured when the property is poorly maintained or lacks appropriate security.
Office buildings. Similarly, the owner or property manager of an office building must ensure the building, parking lot, and grounds are free of hazards and defects.
Parking lots. In another example, the owner of a parking lot in a downtown area with a history of break-ins or muggings probably has a legal duty to install surveillance cameras or hire security personnel.
Swimming pools. Even a few inches of water can pose a drowning risk. This is why swimming pool owners must take steps to ensure their swimming pool is reasonably safe.
In any premises liability case, the court will consider what is reasonable for other property owners in a similar case. If similarly situated property owners would have taken specific steps to maintain their property, the court will probably rule that the property owner in question should have done the same.
Hilton & Somer, LLC: Virginia, Maryland & D.C. Premises Liability Attorneys
The premises liability lawyers at Hilton & Somer, LLC help people who have been injured due to a property owner's negligence. Our practice spans Virginia, Maryland, and Washington, D.C. Contact us today to receive your free consultation. You can reach us through our online contact form, or by calling 703-782-8349.