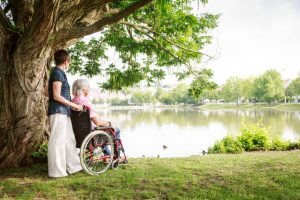 A Full or partial paralysis injury is one of the devastating and life-changing injures a person can suffer in a serious accident. A loss of mobility can impact your career, your finances and your quality of life.
Paralyzed due to the negligence of another? Contact Hilton & Somer, LLC today to see if you have a case against the negligent party. Call our Fairfax paralysis injury lawyers at 703-782-8349. Se habla Español.
It is essential in these cases to have a life care plan that encompasses all of your present and future needs. Paralysis may require 24-hour care as well as the installation of ramps and other home modifications, physical therapy, occupational therapy, rehabilitative therapy, surgeries and other necessary medical treatments and expenses. Quadriplegics and paraplegics are also susceptible to many other injuries, meaning their medical expenses will continue for the rest of their lives.
At Hilton & Somer, LLC we are a small law firm with experience and resources equal to that of our larger competitors. Given our size, we are able to carefully select the cases we take on, fully confident that we have the knowledge and skill needed to obtain results for our clients.
Our experienced personal injury lawyers have experience in paralysis cases that result from any of the following:
Tractor Trailer Accidents
Truck Accidents
Motorcycle Accidents
Pedestrian and Bicycle Accidents
Aviation Accidents
School Bus/Commercial Vehicle Accidents
Construction Accidents
Work-related accidents
We are accessible to our clients when they need us. We promptly return calls and e-mails and always keep our clients informed on the status of their case.
Contact Hilton & Somer, LLC Personal Injury Attorneys
To learn more about how our experienced personal injury lawyers can help you, contact us at 703-782-8349. All cases are handled on a contingency basis, meaning you pay no attorney fees unless we are successful in obtaining compensation for you.