In Washington DC, biking serves as an important method of transportation for thousands of residents. However, drivers seem ill-prepared to provide the space and comfort bicyclists need to navigate the roadway. As a result, bicycle accidents plague the DC-metro area.
Being injured in a dangerous accident can unnerve the best of us. The following steps will keep you organized:
Step #1: Remain Calm
If you feel pressure in your neck or back, stay still and wait for responders to arrive. If you find yourself able to move without serious pain, leave the roadway to avoid further injury. You should never leave the scene of an accident for legal and physical reasons.
Step #2: Call First Responders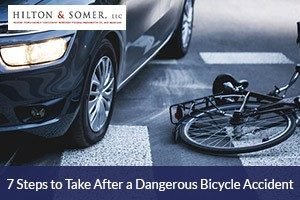 If you have a method available, call the police and an ambulance. No matter how minor your injury, a police officer can write a report and assist in developing a factual account of the accident. Should you choose to file a lawsuit down the road, this report is invaluable.
Step #3: Collect Names, Addresses, and Insurance Information
You'll need the name, license number, address, phone number, and insurance information of any driver involved in the accident. You should also collect basic information from potential witnesses.
Step #4: Write a Description of Events
After you've been treated, if able, write a retelling of the events. Keep this retelling handy. You may also consider keeping a journal throughout your recovery to illustrate the extent of your pain and suffering.
Step #5: Request Copies of Police and Medical Records
Throughout your treatment, request copies of all medical and legal records. Turn these records over to your attorney, should you choose to contact one.
Step #6: Avoiding Taking a Settlement
You should never accept a settlement without consulting a professional, no matter how wonderful it seems. You may be unintentionally barring yourself from future legal action or compensation.
Step #7: Consider Your Legal Options
When you feel you've reached a stable place in your recovery, consider your legal options by speaking to a local attorney.
Contact an Experienced Washington DC Personal Injury Attorney for Representation
Distracted and careless drivers should be held responsible for their actions in a court of law. If you or a loved one has been injured in a bicycle accident caused by a reckless driver, you may be entitled to compensation through a personal injury lawsuit. Contact an experienced Washington DC personal injury attorney at Hilton & Somer for assistance and representation. We'll answer your questions, speak to potential witnesses, and help construct your case. Call our office at (703)-457-9857.