Private ride services like Uber and Lyft have disrupted the taxi industry by taking advantage of consumer need for on-demand services at an affordable price. The problem, however, is that riders sometimes forget that Uber drivers are not immune to bad judgment and questionable behavior that can lead to a crash. If you talk to a car accident lawyer these days, you'll probably discover that there's been an increase in Uber-related wrecks over the past year.
At Hilton & Somer, LLC., we've seen our fair share of auto accident claims related to Uber drivers, and one of the first questions we get is who is liable when these types of accidents occurs.
Who Is Liable In An Uber Car Accident?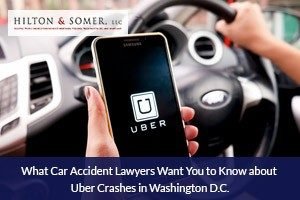 Drivers who work for Uber aren't technically employees of the ride-sharing service. Instead, they are hired as independent contractors.
It's much more difficult for you to sue Uber and claim that they are liable for the actions of a driver who doesn't officially work for the company, and doesn't operate as an employee.
Although the circumstances of each Uber accident are different, the general process after one of these crashes occurs includes:
Record Accident Scene With Photos and Video
Obtain Contact Information for Uber Driver and Any Witnesses
Keep Uber Receipt On Your Phone
Call Your Insurance Company
Call a Car Accident Lawyer
Uber has a $1 million liability policy for all drivers that pays for medical bills and property damage, but the policy is a bit complicated.
Drivers are covered while they're online waiting for a ride request if they get into an at-fault accident.
Drivers are also covered for an at-fault accident when they're traveling to pick up a passenger. When Uber drivers are carrying passengers, however, the coverage extends to the customer as well.
Remember that Uber's insurance will only pay for your medical expenses. If you want to sue your driver for pain and suffering, you'll have to file a personal injury claim against that driver.
If you're riding with an Uber driver, and another vehicle hits your car, you would have to file a claim with the insurance company of the driver who caused the accident.
If that driver doesn't have car insurance, or the policy limits are not sufficient, then Uber's insurance would pay under its uninsured/underinsured policy. 
Contact a Fairfax Personal Injury Lawyer 
With the continuing increase in the number of on-demand private driving services in the U.S., there will also be a corresponding increase in accidents caused by private drivers. A Fairfax personal injury lawyer has the necessary experience and knowledge to represent clients who have been injured in one of these crashes.
Hilton & Somer, LLC., serves clients throughout Virginia, Maryland and Washington D.C., and has a successful track record of obtaining settlements for car accident victims. Since 1965, we have helped car wreck victims and their families obtain rightful compensation for medical expenses and for pain and suffering. Please contact us today at 703-782-8349 for a free consultation.