When a person is killed or passes away due to another's misconduct or negligence, including murder, the victim's next of kin or surviving family members can file a wrongful death lawsuit.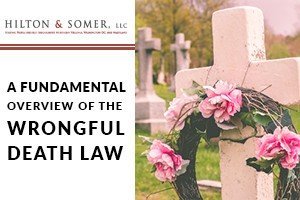 A large percentage of wrongful death lawsuits are filed after criminal trials, where similar evidence is used, but with a lower standard of proof.  Wrongful death claims are designed to compensate the victim's family members for losses sustained as a result of the death.
Elements of a Wrongful Death Lawsuit
There are certain elements that must be present for a wrongful death cause of action to be filed successfully. These elements include:
A human being's death
The death is caused by another person's negligence, or with the intention to cause harm
Surviving family members suffering extensive monetary injury due to the death
A personal representative is appointed or elected for the decedent's estate
There are a number of circumstances that could lead to a wrongful death claim, such as:
Medical malpractice resulting in the death of the decedent
Occupational exposure to toxic or hazardous substances or conditions
Automobile or airplane accident
Criminal behavior
Death that occurred while the decedent was participating in a supervised activity
Who can File for Wrongful Death?
Although every state has statutes creating a right to recover for wrongful death, those who are allowed to file a wrongful death suit may vary significantly in each state. This depends on which system is used; there are two most widely used by statutes pertaining to wrongful death.
The Lord Campbell System: In most states, wrongful death statutes patterned after the Lord Campbell's Act have been enacted. This Act was enacted in 1846 by the British Parliament, but is now followed in most states of the US. Under statutes that are based on this Act, only a designated beneficiary specified by the statute may submit a wrongful death claim. These beneficiaries are specified by statute typically based on their relationship with the deceased.
Examples of Designated Beneficiaries Include:
Immediate family members, including children, spouses, adopted children, and parents of children who are unmarried
Distant family members, such as grandparents and siblings
Life or domestic partners
Financial dependents and people who experience financial suffering as a result of the death
The Loss-to-Estate System
In other states, the statutes declare that only the decedent's estate can issue a wrongful death claim to compensate it for the losses that the estate sustained due to the decedent's death.
In most cases, the lawsuit is filed by the estate's personal representative, who is someone that the probate court appoints to administer the decedent's assets. The suit would be issued under the representative's own name but any amount that is recovered would be held subject to a special trust that will be disbursed to all designated beneficiaries. Again, how the sustained losses are measured in each state will vary from state to state.
If a loved one has died due to an accident or injury caused by another person's misconduct or negligence, you need the expertise of a wrongful death lawyer. Call Hilton & Somer, LLC today