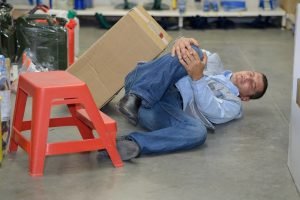 June is National Safety Month.  With the motto "No 1 Gets Hurt,' National Safety Month is meant to bring awareness to everyday safety issues facing Americans at work and on the roadways, as well as in their home's and communities. The National Safety Council (NSC) and the National Institute for Occupational Safety and Health (NIOSH) are encouraging all Americans to take at least one step to improve safety in their own lives, and the lives of those they love.
Steps Employees Can Take to Improve Workplace Safety 
The US Department of Labor's Occupational Health and Safety Administration (OSHA) requires that employers provide a workplace free from known health and safety hazards.  Unfortunately, many employers fail to take the appropriate steps to ensure their workplaces are safe, and OSHA relies on employees to report both workplace hazards and injuries.
As an employee, there are steps that you can take to safeguard yourself in the workplace:   
Be in the right frame of mind. Make sure your attitude and physical fitness are prepared for work. Are you tired?  Fatigued? Ill?  Having difficulty concentrating?
Familiarize yourself with your workplace layout.  Know where safety equipment, first-aid kits, and emergency exits are located.
Identify potential hazards.  Inspect your work area at the beginning of every shift, as well as work equipment and other materials you will be using.  Try to anticipate how your work tasks could potentially go wrong.
Stay alert.  Ensure that your work tasks are given your full attention.  Avoid distractions like cell phones, social media, and conversations with co-workers.
Always follow safety protocols.  Even if these protocols seem onerous, time consuming, or useless, always observe protocol.  These steps have been researched and implemented by your employer for your safety and the safety of everyone you work with.
Know what to do in case of an emergency.  Workplaces should have emergency plans in place for incidents such as fires and medical emergencies.  Request and review these plans, and be sure you understand them thoroughly.
Ask questions.  If you are unsure about anything related to your job requirements or workplace safety, ask management.  If you see something that looks potentially hazardous, notify your employer.  If your employer ignores your warning, contact OSHA or consult an employment attorney.
Know your rights.  You are legally entitled to a safe workplace, and if you have concerns about workplace safety, you have the right to speak up without fear of consequences or retaliation from your employer. 
Contact a Workers Compensation Attorney 
Unfortunately, workplace accidents can still happen, even if you observe all of the aforementioned precautions.  If you are injured on the job, you may be entitled to workers compensation to help defray medical costs and lost wages. The workers compensation process is difficult and subject to strict rules, however.  In complicated cases, a lawyer may make all the difference in the success of your claim.
If you have been injured in a workplace accident, the workers compensation lawyers at Hilton & Somer can help. Contact us today for a free consultation about your case at (703) 457-9857.