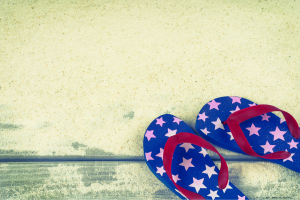 Do you have any plans to kick off the summer season this Memorial Day weekend? If so, then you need to know about the increased risk of injury and accidents during this holiday. Some of the most common ways to celebrate, like heading to the swimming pool or breaking out the trampoline, can lead to serious injuries. Learn more about what you should do if you're injured on Memorial Day below.
What You Need to Know About Driving on Memorial Day
Experts consistently confirm that driving on or during a holiday is much more dangerous than on a typical day. How can this be? What is it about holidays that makes the roads less safe? Here are a few reasons why holiday driving can be dangerous:
There are a greater number of travelers on the road
Motorists are going greater distances, which increases the likelihood of fatigued driving
More travelers are riding on unfamiliar roads
People are still likely to attempt a drive even in adverse weather
There's an increase in drunk driving
Out of all the holiday weekends, where does Memorial Day rank? Statistics gathered from 2011-2015 determined that Memorial Day is the deadliest day to drive of all the holidays celebrated in America. Interestingly enough, the data also indicated that the increase in car accidents is largely centered around the East Coast during most celebrations.
Too many people overestimate their ability to navigate the roads after having a few drinks. Never make the mistake of driving home after enjoying a few Memorial Day celebration beers. Virginia's mountain roads are dangerous enough when the driver is sober. Drinking and driving significantly increases the likelihood of getting into a crash.
The Official Start of Summertime Activities (and Injuries!)
The Memorial Day weekend is traditionally considered the official start of the summer season. Since the holiday also means time off of work and school, people typically flock to the outdoors to enjoy biking, swimming, grilling out and other summertime activities.
According to emergency room personnel, the increase in outdoor activity also usually means an increase in emergency room visits. What type of injuries increase around Memorial Day? Here's a brief list:
Drowning or choking incidents caused by swimming
Bicycle-related injuries
Trampoline-related falls and broken bones
Alcohol-induced injury
Memorial Day Blues: What to Do When You're Injured
No one wants to spend the holiday weekend in the emergency room, but accidents do happen. When they do, you need to be prepared to handle what comes next. If someone else caused your accident, then you may have legal options for financially recovering from the incident.
If you believe someone else's negligence contributed to your injury, then it's best to seek out legal advice from an attorney. The personal injury attorneys at Hilton & Somer, LLC handle a variety of personal injury claims including car accidents, slip and falls and premises liability claims. Reach out to us now at (703) 782-8349 to speak to an attorney and let us fight for you.