The need for long-term care is a reality for quite a few victims after being involved in a car accident or another type of serious personal injury accident. Regardless of if it is at home or in some type of residential facility, a personal injury lawyer will be able to help you plan for your care, or the care of someone you love.
Personal Injury Lawyers: What Type of Accidents Result in the Need for Long-Term Care?
In most cases, a catastrophic injury, which is an injury that causes a severe and possibly even permanent damage to an individual, is what results in the need for long-term care. In many cases, these types of accidents result in permanent disfigurement and disability. While there is no precise definition of "catastrophic injury", these kinds of injuries often involve a long and difficult recovery process, as well as surgeries and even a lifetime of medical care and treatment. The majority of individuals who are involved in a catastrophic injury are never able to return to work, regardless of what their chosen field may be.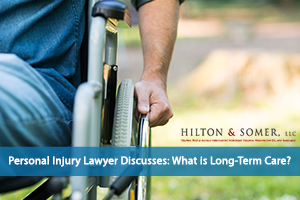 One of the main factors considered when determining if an injury is catastrophic is how debilitating the injury is and the extent that the debilitation is likely to continue. If an injured individual is not able to perform basic life functions for an extended period of time, and is going to require some type of help (such as live-in care), then the injury is typically referred to as being catastrophic.
Another factor that is considered is the impact the injury has on the livelihood and life of the victim. A long-term injury that results in permanent disabilities and prevents an individual from being able to earn a living is also considered catastrophic.
How can a Personal Injury Lawyer Help with Long-Term Care?
If you have been injured because of the fault or neglect of another person and require long term care, a personal injury lawyer can be extremely beneficial and helpful. They can help bring a lawsuit against the at-fault party and ask for a settlement that will cover the costs of the long-term care a victim will require. This will help to ease some of the financial burden on that individual, as well as their family. An experienced personal injury lawyer can also help the victim and their family find the long-term care services that they need.
When you or someone you love is injured and require long-term care, you may be eligible to file a lawsuit against the at-fault party so they will cover the cost of this care. A personal injury attorney can help with this entire process. Additional information is available by contacting the attorneys at Hilton & Somer, LLC by calling 703-782-8349 today.
Additional Reading:
What Should You do After Being Involved in a Boating Accident in Virginia?
What are the Leading Causes of Motorcycle Accidents in Virginia?