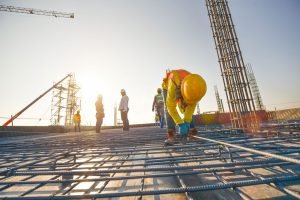 The rate of work-related fatalities in construction is higher than any other industry due to the nature of the work involved. Here are some of the most common hazards, as well as potential work safety solutions.
Scaffolding Hazards 
Everyone knows that if scaffolding is not erected properly, fall hazards can occur. In addition to proper erection, however, proper use of scaffolding is essential in the prevention of construction accidents.  Scaffolds should have guardrails, midrails, and toeboards.  The platforms should be made of scaffold plank grade material or the equivalent.  A qualified person should inspect the scaffolding upon erection, and the scaffolding should be re-inspected regularly.  Scaffolds must always be at least 10 feet from electric power lines.
Protection from Falls 
Falls are responsible for the largest number of injuries and fatalities in construction accidents.  Factors that contribute to construction accident falls include:
Misuse of fall protection equipment
Failure to use fall protection equipment
Unstable working surfaces and
Human error
Studies show that using guardrails, fall arrest systems, covers, safety nets, and restraint systems significantly decreases the likelihood of a construction accident occurring.
Ladders 
OSHA estimates almost 25,000 construction workers are injured each year in construction accidents due to falls on stairways and ladders.  To prevent these types of accidents from occurring, workers should use the right ladder for each specific task.  Ladders should be visually inspected for defects often, and should not be loaded beyond the maximum intended load.  Ladders with metallic components should not be used near electrical work.
Stairways 
Construction accidents involving slips, trips, and falls on stairways are quite common.  Consequently, steps should be taken to reduce the potential for injury.  Stairs should not have objects, materials, or debris stored on them.  Steps should have treads that cover the entire plank and the landing.  Stairways with four or more risers, or stairways rising more than 30 inches, should also have at least one handrail for safety.
Cranes 
Cranes can cause serious injury if not used properly.  Common injuries occur when a worker is caught in the crane's swing radius or is struck by an overhead load.  Fatalities often occur when the crane boom or load line comes into contact with a powerline.  To prevent construction accidents, cranes should be inspected before use, and never used to lift loads over workers.  Accessible areas within a crane's swing radius should be barricaded.  Energized electrical lines should have a working clearance of at least ten feet.
If You Have Been Injured in a Construction Accident 
If you have been injured in a construction accident, the lawyers at Hilton & Somer can help.  We work as tireless advocates on behalf of our clients, and understand workers' compensation and personal injury law.  Depending on the facts and circumstances of your case, you may be entitled to lost wages, coverage for your medical bills, and, if necessary, employee retraining.  Don't compound a tragic construction accident by failing to recover everything you are entitled to.  Contact us today at (703) 782-8349.