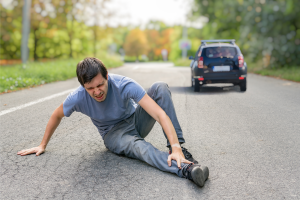 It's smart for your health to go for a walk every now and then. Many people like to walk to work, walk their dogs, walk to the store, or go for a walk at night after dinner. Whether you are walking for exercise or a walk is part of your daily commute, you need to keep yourself safe as much as possible.
What many people underestimate are the hidden dangers pedestrians face daily, driving by in plain sight.
So, what should you do if ever injured in a pedestrian accident? We outline the steps to follow after such an accident so you can protect yourself and your rights.
Move Off the Street
If you have not sustained serious injuries that have left you unable to move, make sure you move off the street immediately after the accident. Get to somewhere safe, but also close to the accident scene, like a parking lot or store. Remaining on the street where you were hit can lead to more serious problems and even secondary accidents.
Keep the Driver at the Scene
Try to keep the driver at the scene if you can. If you are too injured, ask witnesses to make sure the driver remains at onsite. If the driver flees, be sure someone calls 911 and gives a description of the vehicle to dispatchers so the police can apprehend the driver.
If the driver remains at the scene, exchange information with them so you can contact their insurance company for a claim after a pedestrian accident.
Accept Medical Care
The fire department, paramedics, and EMTs will be dispatched to most pedestrian accidents involving motor vehicles. All of the responding emergency personnel will want to evaluate you for injuries. Do not resist or ignore their efforts to provide medical support and care. If they recommend you go to the hospital, make sure you accept transport. Documenting your injuries will help immensely when building a case against the at-fault driver.
Take Pictures
Take pictures of your injuries, the vehicle, the road conditions, the road signs, the traffic lights and anything else that documents the accident. Take pictures of the driver's insurance card and their contact information so you don't lose anything written down on a piece of paper.
Speak to an Attorney
Before you talk to an insurance company, even your own, you need to speak to an attorney. An attorney will be able to explain your rights, advise you about your next steps, and guide you in the right direction towards litigation or a settlement out of court.
Schedule a Consultation with an Attorney Today
Were you injured in a pedestrian accident in Virginia? Receiving compensation for your injuries is important so you don't have to pay out of your own pocket for medical bills. Call the team from Hilton & Somer, LLC today to schedule a consultation with an experienced personal injury attorney at (703) 782-8349.