With summer in full swing, there are millions of young people all across the country seeking summer employment. For many of these kids, this represents their very first job.
According to information from OSHA, workers who are under the age of 25 are twice as likely as older workers to suffer an injury while on the job and they are, in many cases, not aware of what rights they have.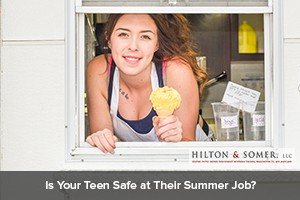 In fact, according to statistics, a teen worker suffers an injury while on the job every nine minutes. In the year of 2011 alone, there were over 331 young people killed on the job, with 106,170 injured.
Protecting Your Kids and Their Rights
Due to these shocking statistics, it is imperative for parents to educate their kids about their rights and how to remain safe while on the job this summer. According to the OSHA Act of 1970, employers are required, by law, to provide everyone a working environment that is free from any recognized, serious hazard, which includes workplace violence.
The Most Dangerous Jobs for Teens
According to the National Consumers League, there are five jobs that are considered to be more dangerous for teens than other workers. These include:
Landscaping, lawn service, and groundskeeping
Construction work
Traveling youth sales crews
Using machinery and harvesting crops
Tobacco Harvester
While this doesn't mean that other jobs are completely safe, these were highlighted as being the most dangerous positions for young people today. Regardless of the job your teen has accepted, it is important that they understand the risks and hazards – and their rights if an injury does happen to occur.
Keeping Your Teen Safe at their Summer Job
If your teen is thinking about joining the workforce this summer, it is a good idea to help them realize that they do have rights, even though they are still considered underage. Also, make sure your son or daughter knows that if they see something that is dangerous or unsafe on the job, they need to speak up and report the problem to the proper authority. Let them also know that it is illegal to be fired just for reporting a hazard or injury in the workplace. Additionally, workers' compensation laws apply to all employees, which includes a contract or temporary summer labor. If an injury does occur, your teen has the right to receive workers' compensation benefits for lost wages and medical bills.
Why Hire an Attorney?
If your teen does become injured while working at their summer job, the best thing you can do is hire an attorney for help. The attorney you hire can review the facts of your case and help ensure your case is successful or achieves the desired outcome.
If you have more questions about an injury your teen received while working a summer job, it is a good idea to contact a lawyer right away. More information is available if you contact the personal injury attorneys at Hilton & Somer, LLC by calling 703-782-8349.