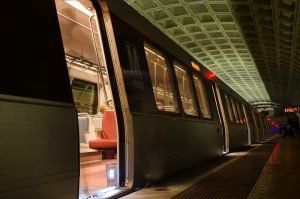 If you're a resident of Washington, D.C. or an area commuter, you have probably noticed significant delays and re-routes, which are a direct result of the closure of the Metro Red Line between Fort Totten and NoMa-Gallaudet stations. Adding to the logistical headache is the fact that the Rhode Island Avenue and Brookland-CUA stations will be closed for a 45-day period, beginning July 21st and extending through Labor Day weekend.  Both are scheduled to resume operations on September 3rd.
The shutdowns are related to "major structural problems" with the platform and bridge structures at the Rhode Island Avenue station.  These problems were first identified back in September 2016, when emergency repairs were conducted by the WMATA.
The Washington Metro has faced intense scrutiny about the safety of its infrastructure and trains.  The Red Line is particularly problematic, as two major accidents have occurred on its tracks in the last 15 years. Between the two, there have been 9 deaths and 96 injuries, mostly to passengers.
November 3, 2004 
In November 2004, an out-of-service Red Line train hit an in-service train at the Woodley Park station, injuring 20 people.  Investigators determined that the train operator was not alert when the out-of-service train rolled backwards into the station.  Safety officials estimated that, had the train been full at the time of the collision, 79 people might have died. 
June 29, 2009 
In JUNE 2009, a collision on the Red Line resulted in the deadliest Metro disaster in history. The accident injured 76 people and sadly, 9 people lost their lives. At approximately 5:00pm on a Monday, a Red Line train rear-ended another just short of the Fort Trodden station.  Many survivors were forced to wait several hours as rescuers attempted to retrieve them from the wreckage.
Initial reports suggested possible terrorist involvement, but the Department of Homeland Security announced that it had ruled out terrorist activity as a possible cause within two hours of the crash.  Reports that the train operator was using a cell phone at the time of the collision were also deemed false.
Miner Accidents Aren't Uncommon 
In addition to these major accidents, several other minor incidents have occurred on the Red Line, including the 2006 death of a Metro track worker and several derailments since 2000.
More than half a million commuters use the Washington Metro system to get around D.C. and the surrounding areas daily.  Metro trains and buses serve as the major arteries through our nation's capital, and commuters depend on the promise of reliable and, more important, safe mass transit.
Unfortunately, failures happen, which can result in a catastrophic mass transit accident like the June 2009 Red Line collision.
If You've Been Injured on Metro, You Need Legal Representation 
If you have been injured in a mass transit accident, the attorneys at Hilton & Somer, LLC can help you to recover damages related to medical expenses and lost wages, as well as non-economic damages like pain and suffering.  We handle all of our mass transit accident cases on a contingency basis, which means we do not charge clients a fee unless we win their case.  Contact our office today at (703) 457-9857 for a free case consultation, and let us help you get on the road to recovery.