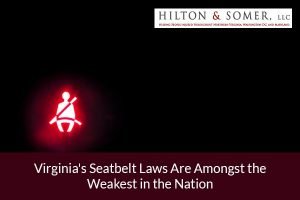 Virginia's seatbelt laws will remain some of the weakest in America for the foreseeable future, as a Senate committee voted to not proceed with a proposed bill that would have strengthened them. Currently, only drivers and front-seat passengers are required to wear a seatbelt, in addition to children belted into a car seat, and offenses are considered secondary, which means they only carry a $25 fine.
It's a Hard Law to Enforce
Opponents of strengthening Virginia's seatbelt laws feel that doing so would make them impossibly difficult to enforce. Under the state's existing legislation, law enforcement cannot pull drivers over and give them a ticket just because they aren't wearing a seatbelt. Upgrading the infraction to a primary offense would have given them that power.
Virginia has long been a proponent of civil liberties, so the Senate committee's killing of the bill did not come as to a shock to many. Those hoping for stricter seatbelt laws continue to point to the dramatic increase in traffic-related deaths and the benefits that stricter laws have had around the country.
Traffic-Related Deaths on the Rise
Years of decline in traffic-related deaths took a turn for the worse several years ago. The Virginia Department of Motor Vehicles says traffic-related fatalities have increased 20 percent since 2014. Fatalities due to drivers and passengers not wearing seatbelts has increased 20 percent as well.
The National Highway Traffic Safety Administration says states that have seatbelt laws as primary enforcements show higher daytime use rates and lower fatality rates than states with seatbelt laws that are secondary enforcements. Virginia is one of 16 states that classifies seatbelt violations as a secondary offense.
Where Does the Seatbelt Law Go from Here?
The strike down of the proposed bill means stricter seatbelt laws will not be coming out of the Virginia Senate anytime soon. There is hope for those pushing for further safety measures, however.
Delegate Paul Krizek, a Democrat representing Fairfax County, has proposed a similar bill in the state's House of Delegates. The bill suggests primary seatbelt enforcement for drivers and front-seat passengers, and secondary enforcement for rear-seat passengers. This would not only give law enforcement the right to pull cars over for either the driver or front-seat passenger not wearing a seatbelt, but it would enable them to issue a ticket to rear-seat passengers if the driver is pulled over for another reason.
The proposal is currently in the House Transportation Committee for analysis.
Have a Personal Injury Lawyer in Fairfax VA on Your Side
With the Senate killing a recent proposal and the House only just proposing its version, stricter seatbelt laws in Virginia will have to wait for now, which could spell bad news for drivers in the DMV area.
If you or a loved one has been injured in a traffic accident, call the personal injury lawyers in Fairfax VA at Hilton & Somer at (703) 782-8349.
Additional Reading