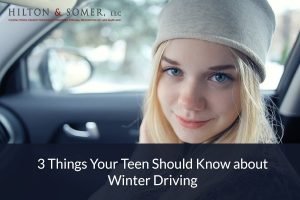 While it doesn't happen often, it snows often enough in the area that it is a good idea to have a talk with your teen driver about the perils of winter driving.  There are three topics parents should consider discussing with their teen drivers at the start of each new winter season:
Winter driving takes longer
Winter driving requires some different skills
Sometimes, the best skill for winter driving is knowing when not to drive.
Winter Driving Takes Longer
Make sure your teen knows that driving in the winter time, especially in sleet or snow, requires additional time.  Even if the posted speed limit is 60 miles per hour, for example, that doesn't mean one should drive that speed if the conditions are dangerous.  Slowing down is an essential part of safe winter driving.  Additionally, before even leaving for a trip, teens should be remined to take the time to brush the snow off the roof of the car, to keep it from blowing off and blinding the driver behind them.  They should also thoroughly brush off the front and back windshields.  Finally, they should take the time to clear the snow off the headlights.
Winter Driving Requires Different Skills
Driving in the snow is NOT the same as driving when there is no snow.  Take the time to make certain your teen has an appreciation for how driving in snow is different.  If you have the chance, take your teen out to a lightly traveled area to give them some experience behind the wheel driving in the snow.  They should learn how the car responds differently when driving in snow.  Some additional safety tips include:
Do not pass snowplows
Drive with headlights on whenever it is snowing
Expect slippery conditions on overpasses and bridges
Do not rely solely on the fact the vehicle has four wheel drive to stay safe – exercise good judgment
Never us cruise control when driving on ice or snow.
Staying Put
Sometimes the best and safest decision about driving in snow is the decision not to drive.  Sometimes driving in snow is unsafe.  Encourage your teen to stay put if they face white out conditions, black ice, or freezing rain.  This may mean pulling over to the side of the road, exiting the freeway to find a parking lot to stay in, or finding some other safe haven.  If your teen stays with the car, make certain they understand the importance of keeping the exhaust pipe clear of snow.
If You or a Loved One is Hurt This Winter
If you or a loved one is hurt in a car crash this winter, contact the lawyers at Hilton & Somer, LLC.  Our attorneys help inured people throughout Northern Virginia, Washington, DC, and Maryland.  Depending on the facts of your case, you may be entitled to compensation for lost income, past and future medical bills, and pain and suffering. Contact our office today at 703-782-8349 to schedule a complimentary consultation.  We don't charge our clients a fee unless we win the case.  You have nothing to lose.  Call today.
For More Information