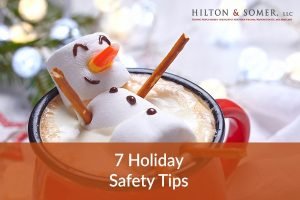 During the holiday season, families have a number of ways to celebrate.  However, the holidays can be devastating if there is a fire in the home.  In the United States, fire departments respond to an average of 800 home fires each year that are attributable to faulty decorations (not counting fires related to Christmas trees).  These fires cause death, injury, and millions of dollars in property damage.  Christmas tree fires, of course, are also a source of, on average, 170 fires each year.  Similarly, Christmas tree fires cause death, injury, and financial damage.
Our injury attorneys think you you can protect yourself and your family by observing these 7 safety tips when decorating your home.
Consider Battery Operated Candles
While candles provide a certain amount of festiveness, an open flame is dangerous.  Particularly if you plan on having candles lit for hours on end, consider using battery operated candles rather than "the real thing."  Candles are the cause of almost half of all home decoration fires, according to the National Fire Protection Agency (NFPA).
Exercise Restraint with Strings of Lights
When stringing strands of lights together, resist the urge to create a single long string.  No more than three strings of lights should be stung together as a single strand.  Exceeding this can lead to blown fuses.  More importantly, this can lead to fires.
Inspect Decorations Before Use
Before stringing those lights or plugging in the outdoor holiday scenes take some time to inspect the electrical decorations before using the.  Look for cracked or damaged sockets.  Loose or bare wires, as well as loose connections can also be dangerous.  These features could cause serious shock, or even start a fire.
Protect Cords from Ongoing Damage
Once you have assured yourself the cords are safe, take steps to make certain they maintain their structural integrity.  Do not pinch cords by placing heavy furniture on them, jam them into small spaces, such as a door or window frame, put them under rugs, use staples or tacks to hang them, or store them before heat sources.
Water Your Tree Daily
If you have a Christmas Tree, make certain to keep it watered each day.  Dry trees are a serious fire hazard, and can ignite a fire in an instant.
Extinguish Decorations or Turn Them Off Before Bed
Before bed, walk through the house and turn off or extinguish all decorations.  Half of all home fire deaths occur between 11:00 pm and 7:00 am, according to the NFPA.  Make certain no candles are left lit and unattended.
Stay in the Kitchen if Cooking
Like unattended candles, unattended cooking equipment can be very dangerous.  If you are cooking, make certain to keep an eye on what is going on.  Unattended cooking equipment is a leading cause of cooking fires in the home.
Injury Attorneys at Hilton & Somer, LLC Want You to Stay Safe This Holiday Season
At Hilton & Somer, LLC, we wish you and yours a very happy holiday season.  If you or a loved one has been hurt, we are here to help.  Contact us today for a complimentary consultation at 703-782-8349.
For More Information