Fall is on the way.  What could be more glorious than cruising the GW Parkway or the Rock Creek Parkway on a motorcycle, taking in the changing color of the leaves and the beauty of the Potomac?  While biking is a thoroughly enjoyable activity, it can be far more dangerous than driving a car.   For example, while only 20 percent of car crashes lead to death or injury, an astonishing 80 percent of motorcycle crashes result in death or injury. Understanding the most common situations that lead to motorcycle crashes can go a long way in preventing them.
Inattentive Driving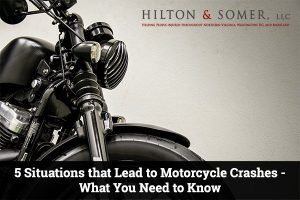 Whether one is texting and driving, or simply daydreaming about the rest of their day, inattentive driving is dangerous to everyone on the road.  In order to stay safe, experts recommend keeping hands on the handlebars, eyes on the road, and mind on the task at hand.
Excessive Speed
It can be tempting to exceed the speed limit when biking. However, the speed limits are there for a reason. It is important for one's own safety, as well as the safety of others, to observe the speed limit. Of course, when conditions are less than optimal, bikers should lower the speeds even further. All drivers have an obligation to maintain a speed that is safe for the conditions at hand at all times.
Left Hand Turns and Cars
Almost have of all motorcycle fatalities involving another vehicle stem from cases where the other driver was turning left while the motorcyclist was proceeding through an intersection.  Motorists can do their part by taking the time to look specifically for motorcycles before turning left at an intersection.
Alcohol
Alcohol impairs judgment and slows reflexes.  Even a single cocktail can have an impact on one's ability to safely operate a motorcycle. In single vehicle motorcycle crashes in 2015, 42 percent of motorcycle riders were alcohol impaired, according to the National Highway Transportation Safety Administration (NHTSA). Additionally, in all traffic fatalities, motorcyclists were found to have the greatest percentage of alcohol impaired drivers. The overall breakdown of alcohol impaired drivers in traffic fatalities is as follows:
Motorcyclists 27 %
Passenger cars 21 %
Light trucks 20 % and
Large trucks 2 %.
Inexperience
Unfortunately, inexperience contributes to motorcycle crashes, resulting in injury and sometimes death. In fact, 26 % of all motorcycle fatalities involve motorcyclists who did not carry a valid motorcycle license. While riding a bike can be great fun, it is important to put in the work ahead of time, practicing under an increasingly challenging set of conditions.
Motorcycle Accidents Can Damage Lives
If you have been injured in a motorcycle accident, or if you have lost a loved one to a motorcycle accident, you may be able to recover for your costs and your loss. Contact the motorcycle accident attorneys at Hilton & Somer, LLC. Our personal injury attorneys fight for you and your family. We seek recovery for lost wages, ongoing medical bills, and pain and suffering. You should know we do not charge a fee for a consultation. We are happy to meet with you at a time and place convenient to you. Contact us today at (703) 782-8349.
For More Information
How Motorists Contribute to Tractor Trailer Accidents
Steps to Take After a Dangerous Bicycle Accident