There is one statistic that Fairfax County wishes it wasn't the leader in – the most traffic-related deaths in Virginia. A recent Virginia Highway Safety Office report found there were 35 traffic-related deaths in Fairfax County in 2017, which continues to lead the state in that number, and by a wide margin.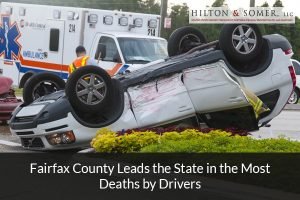 Maybe it shouldn't be surprising that Fairfax County is the leader in this dubious category, since it is the most populous county in Virginia, but it's an area that it wishes it didn't lead. The 35 traffic-related deaths were an increase of one over the previous year, but it was 12 less than occurred in 2012. Still, there have been a total of 225 deaths caused by auto accident in Fairfax County since 2012.
Fairfax County's Death by Drivers in Perspective
Fairfax County may lead Virginia in death by drivers, but is that the entire story? The statistics say not necessarily. Here's how Fairfax compares with other Northern Virginia counties, with total fatalities as well as the death rate per 1,000 drivers:
Prince William: 22 fatalities (0.07 rate)
Loudoun: 22 (0.08)
Spotsylvania: 12 (0.14)
Stafford: 9 (0.09)
Arlington: 5 (0.03)
While Fairfax County's 35 deaths are 12 more than the next highest, its death rate of 0.04 would actually rank it more in line with Arlington. Fairfax County's 781,154 licensed drivers as of the end of 2017 is about 470,000 more than Prince William County.
Still, the county's roads are a dangerous place to be. In addition to the deaths in auto accidents, 6,418 people suffered personal injury in the 13,631 total crashes reported in Fairfax County in 2017.
Statewide, the number of car-related fatalities in 2017 increased by 10.8 percent over the year before. One good piece of news, though, is that teen driver fatalities decreased 35.6 percent in that timeframe.
Auto Accidents Can Be Costly
In addition to costs associated with the repair of the vehicles involved, the economic damages that are incurred by motor vehicle accidents are quite high. In 2017, the Virginia Highway Safety Office released its Virginia Traffic Crash Facts report that found the economic cost of fatalities as a result of crashes totaled $1.05 billion statewide in 2014. That same year, injuries as the result of motor vehicle crashes totaled almost $2 billion statewide.
These economic costs take into consideration the value of the loss of life, as well as that of medical bills, lost wages and future projected damages that occur when someone suffers a personal injury as a result of a motor vehicle crash.
What Should You Do If You've Been Injured in an Auto Accident in Virginia?
If you or a loved one has suffered a personal injury – or worse yet, a death – as a result of an auto accident in Northern Virginia, it's imperative that you contact experienced personal injury lawyers in Fairfax VA who can guide you through all the proper steps to reclaim lost wages and costs incurred for medical bills. At Hilton & Somer, we help people injured throughout Northern Virginia, Washington, D.C., and Maryland. For a free consultation, contact us today at (703) 782-8349.
Additional Reading