According to information taken from a study in the Journal of the American Medical Association, there are some hospitals that may earn a profit from mistakes or surgical errors they make.
The study mentioned above evaluated more than 34,000 surgical patients in 2010 at a hospital that was run by Texas Health Resources. This is a very large non-profit hospital system in the U.S. Approximately 1,820 of the patients being treated at the hospital suffered from one, or more than one, preventable complication. Some of the most common complications were infected incisions, pneumonia and blood clots.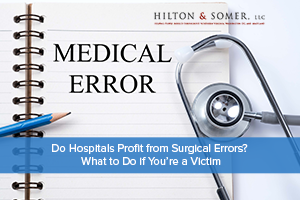 Due to these preventable complications, the median length of stay in the hospital for the patient quadrupled to about 14 days, giving the hospital additional revenue of $30,500 more than the patients that did not have any complications. Additionally, patients who were covered by Medicaid or Medicare or those who paid out of their own pocket, wound up paying much less than patients that had private insurance coverage.
Is Financial Gain an Incentive for Hospitals to Make more Surgical Errors?
The study authors noted that the current payment system being used by the hospital that was focused on makes it very difficult for the staff to provide any better treatment because there may be some type of financial gain to continue using practices that cause mistakes. The authors also note that altering the existing payment system and not providing rewards for substandard or low-quality care may help to reduce the number of preventable surgical errors and complications.
Experts Say it's "Not Surprising" These Intentional Surgical Errors are Made
According to an expert on medical economics from Princeton University, the study shows the disturbing, yet not surprising, that hospitals that are profitable aren't working to revamp their methods and treatments. While this is problematic, it is a fact for hospitals across the nation. However, private insurers and Medicare has pushed for higher quality care by not compensating hospitals for certain medical errors on the "never list," such as operating on the wrong limb or organ or leaving a sponge or something else inside of a patient.
Contact an Attorney if You are Victim of a Preventable Surgical Error
Surgical errors can be devastating. They can result in someone having long term medical issues and in some cases, even death. If you, or someone you love, has been a victim of preventable surgical errors, then you need to contact an attorney for help right away. The attorney can review your case and determine if you may be eligible to recover financial compensation for the medical issues you have suffered.
Additional help and information about preventable surgical errors is available by contacting the attorneys at Hilton and Somer by calling (703) 782-8349. Having legal help is the best way to handle any type of situation involving surgical errors.
Additional Reading
Spinal Cord Injuries: Do You Need a Lawyer?