Three accidents involving tractor-trailers last October have left many people wondering about the effectiveness of federal legislation and regulations.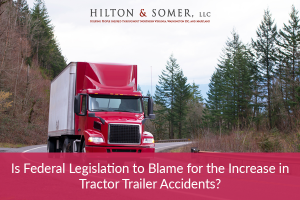 The most severe accident occurred when a firefighter was killed, and three others were injured, after a tractor-trailer rear-ended a fire truck at 9 p.m. on I-295. Police charged the driver with reckless driving and defective brakes.
Just a few days before that, a truck driver was killed when he drove off I-64 and into the median, striking a tree. And 10 days before that, another tractor-trailer driver was seriously injured when his vehicle flipped on its side and slid into the woods.
Are Driving Regulations to Blame?
Many experts claim the reason for the increase in accidents involving tractor-trailers is because federal regulations allow truckers to drive up to 60 hours in a week, and up to 11 hours straight in a single shift.
A change to the law in 2017 attempted to curb truckers from driving too much by requiring them to digitally log every stop they make instead of simply writing it on paper. Truck drivers are required to document every stop, whether it's for gas, to eat or to take a required 30-minute break.
Some people say it's still too much time on the road. And law enforcement officials have said most crashes are caused by driver error and not issues with the vehicles themselves.
In Virginia, there are specific parts of law enforcement whose job it is to ensure that drivers and their trucks are up to code across their region. These troopers check to  make sure the vehicles are OK to be on the road and that  drivers are following the federal regulations, logging all their stops and not exceeding the number of hours they're allowed to drive.
Tractor-Trailer Accidents Are on the Rise
In 2017, there were 2,306 large truck crashes in Virginia, according to the DMV. Of those, 1,439 resulted in significant property damage, 822 resulted in injury and 45 resulted in at least one fatality. In 44% of these crashes, it was determined that no improper action was made by the driver.
Get Guidance from Personal Injury Lawyers in Fairfax VA
Because of the sheer size and weight of the vehicles, almost no tractor-trailer accident is minor, and the results of these accidents range from serious personal injury to even death. Those who are lucky enough to survive often have to a tough road to recovery ahead of them.
At Hilton & Somer, our personal injury lawyers in Fairfax VA have the experience and expertise to help the victims of tractor-trailer accidents in the DMV area. For a free consultation and case evaluation, call us today at (703) 782-8349.
Additional Reading