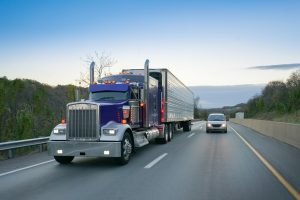 Since 2001, fatal accidents involving commercial trucks have been gradually on the rise. Fatigue, substance abuse, and not observing road safety rules are the three biggest contributing factors. Motorists and their passengers, pedestrians, and others not in a commercial truck comprise over 75% of the fatalities. And, with a nationwide truck shortage, individual truck payloads are going to get bigger as drivers are urged to spend even more hours on the road.
Fatigue Is the Most Common Cause of Crashes 
In one famous case, the driver of the truck that struck actor Tracy Morgan stated he had been on the road for more than 28 hours straight. This is more than double the limit allowed by federal regulation. Trucking companies regularly push their drivers to increase their time on the roads, regardless of safety concerns. Their argument is that the added risk is worth it to hit their deadlines. This is little comfort to the families and friends of the almost 4,000 people killed in these types of crashes on an annual basis, however.
Truckers themselves hate the situation. Not having enough time to rest and being forced to drive beyond safe hours is a common complaint, and always named as one of their top three safety concerns. Yet trucking companies, many with state and federal delivery contracts, still push their drivers to be on the road for longer and longer periods of time, or potentially face unemployment.
These Are NOT Accidents
An accident is defined as something that can still happen, even when all reasonable safeguards have been taken. Forcing truckers to work beyond their physical limits, to say nothing of the law, is to completely disregard the safeguards established by the Federal Motor Carrier Safety Administration. Truckers themselves blame fatigue as the number one cause of commercial trucking accidents. Families who lose loved ones often do not understand how their tragedy could have happened and blame only the trucker, however, not the people or the company that encouraged their unsafe driving practices in the first place.
Accountability Under the Law
An employer that routinely pushes a truck driver to work longer hours than federal regulations allow can be held legally responsible for commercial trucking accidents since they knowingly authorized the illegal behavior and did nothing to stop it. Known as vicarious liability, commercial truck accident lawyers often successfully file claims against trucking companies, as opposed to truck drivers themselves, if driver fatigue is determined to be the cause of the accident and it can be proven that the company promoted unsafe driving practices.
Call for Help
At Hilton & Somer, we specialize in helping families after a commercial trucking accident has occurred.  We aggressively litigate to ensure that companies are held accountable for forcing their drivers to violate federal law, which endangers everyone on the roadways in Maryland, Virginia and Washington DC.  If you or a loved one has been injured in a commercial truck incident, contact us today at (703) 782-8349 to discuss the circumstances surrounding your accident, as well as potential legal options that may be available.