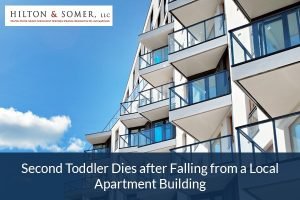 Another family in the Skyline Towers Apartments in Fairfax County is reeling after their 2-year-old son fell from a 24th-floor balcony and died. Three months earlier, a 3-year-old boy fell from the 26th floor of the same building and suffered the same fate. Now, one of the families has filed a wrongful death lawsuit against the apartment building owner and property manager.
How Tragedy Struck Again
In the latest case in August 2018, an adult was inside the apartment taking care of another child when the 2-year-old fell from the balcony. The incident that occurred in May, when 3-year-old Syed Noor Zaidi fell to his death from the 26th floor, occurred when a screen in one of the apartment's windows gave out.
While these two falls both ended in tragedy, another incident at the apartment complex back in 2015 barely avoided it when a toddler fell from the fifth floor. Luckily, he survived.
Family Claims Apartment Complex is at Fault for Son's Death
The family of 3-year-old Syed filed a $100 million wrongful death suit against Equity Residential, the company that owns the building. The claim cites that the building isn't safe for children.
Residents at the complex told news reporters that the rails on balconies at the apartment are wide enough for children to squeeze through, and some said the locks on the window screens are faulty as well.
The Long Road Ahead
Both families will be dealing with the grief caused by these incidents for the rest of their lives. Having to deal with the loss of a loved one is hard enough. It's even tougher when that loved one is a child.
While no amount of money can bring their son back, the Zaidi family is looking for some closure and justice for what happened.
Wrongful deaths don't just rob people of life and family members from sharing that life, they also leave behind a trail of emotional baggage that can cause immense financial hardship for years to come. In addition to end-of-life expenses, wrongful death cases often cause strains in marriages and mental well-being, what can result in lost wages at work, as well as medical expenses.
Get Experienced Help with Your Wrongful Death Case
Wrongful death cases are often the most difficult ones for victims to pursue. Many people often hesitate to file suit because they don't want to re-ignite past memories or the pain of re-living the incident again through a lawsuit.
Families who have lost a loved one in a wrongful death case have suffered enough. That's why it's important to hire personal injury lawyers in Fairfax VA that will not only fight for you and your family, but will do so with the utmost sympathy, care and compassion. At Hilton & Somer, we are well-versed in wrongful death lawsuits. Call us today at (703) 782-8349 for a case evaluation.
Additional Reading