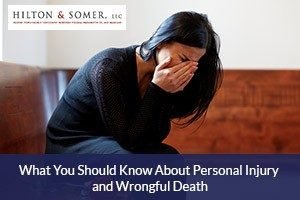 There is nothing more horrible than losing a loved one. When someone is killed due to the negligence or recklessness of another, surviving family members may choose to sue for wrongful death. The majority of wrongful death cases are filed following criminal trials, seeking financial compensation in a personal injury lawsuit where criminal charges failed.
Examples of Wrongful Death
There are many ways a person can negligently or intentionally cause the death of another human being. Some common examples, however, include:
Criminal Behavior

Medical Malpractice

Automobile or Truck Accident

Occupational Exposure
All of these circumstances can lead to personal injury lawsuits without the death of a victim. With it, the case becomes more serious – and, in many states, more complex.
The Burden of Proof
In order to succeed, a plaintiff in a wrongful death lawsuit must prove:
Another human being died.

The death was caused by the negligence or intent of the defendant.

The surviving family members of the victim suffered direct monetary injury.
Compensation Options
The main measure of damage in a wrongful death claim is called "pecuniary injury." This injury could include loss of services, support, and inheritance. It could also include medical and funeral expenses incurred by the victim and the family.
In order to determine pecuniary loss, consideration is made to the victim's age, character, and condition – in addition to earning capacity, health, and intelligence. The standing of the men, women, and children listed to receive compensation will also be considered.
Expert testimony may be required to establish the value or provide insight.
Finally, the plaintiff may attempt to make a survival claim, seeking compensation for pre-death pain, suffering, and financial loss. If the claim is successful, the value of the case could rise significantly.
Who Can File a Wrongful Death Claim?
Only the personal representative of the victim's estate may file a wrongful death claim. This representative is also responsible for supplying proof of pain and suffering, personal injury, and expenses incurred before the victim died. The compensation awarded, however, can be shared with various parties based on the will of the victim.
Contact an Experienced Washington DC Personal Injury Attorney for Assistance
If a loved one has been killed in an accident caused by someone else's negligence, you may be entitled to compensation through a wrongful death claim. Contact an experienced Washington DC personal injury attorney at Hilton & Somer for assistance and representation by calling (703)-782-8349. We'll file paperwork, meet deadlines, and answer questions – giving you the time you need to recover financially and emotionally. Our team is prepared to fight for the justice you deserve.