In Washington, D.C., there are a considerable number of potential personal injury claims.  From falling on the ice at the bottom of the escalator at the Waterfront Metro, to being hit by a car going the wrong way on Rock Creek Parkway during rush hour, to inadequate medical care at one of DC's many hospitals, if you are injured in any way, you may have a Washington, D.C. personal injury claim.  Below we discuss the most common forms of personal injury.  These however, are not the only potential injury claims.
Motor Vehicle Accidents and Personal Injury
Often times, if you have been hurt by a motor vehicle, you have a personal injury claim.  For the purposes of this section, "motor vehicle" includes cars, motorcycles, scooters, all-terrain vehicles, and even boats.  Both passengers and drivers may recover for their injuries, even if the accident only involves a single motor vehicle.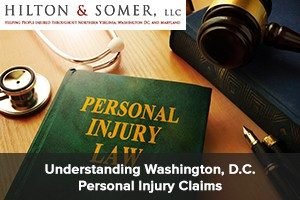 Pedestrians struck by motor vehicles also have personal injury claims.  Likewise, bicyclists injured by motor vehicles qualify as people with claims of personal injury.  This broad umbrella covers both injuries and deaths that occur from motor vehicle accidents.
Truck Accidents and Personal Injury
While everyone agrees trucks qualify as motor vehicles, they are listed separately for this post.  Professional truck drivers have added duties of care.  Additionally, state and federal laws govern truckers' conduct.  For example, truck drivers must maintain log books, documenting each trip they take and when they take it.  There are limits governing the amount of time truck drivers may spend on the road, and how much time they must rest.
Truck accident attorneys need an additional skill set, beyond handling motor vehicle accidents to handle truck accidents.  Attorneys must first understand the requirements of truck drivers.  Second, truck accident attorneys must also understand how trucks work differently than other motor vehicles.  Trucks need more time to stop, more space to turn, and have a higher center of gravity that impacts how trucks operate differently than cars and motorcycles.
Medical Malpractice and Personal Injury
Medical malpractice refers to a specific set of circumstances, where first, a medical professional owes a duty of care, and second, they failed to meet that duty.  People who owe a duty of care may include the following:
Doctors;
Nurses;
Physician's assistants;
Pharmacists;
Surgeons;
Medical technicians;
Physical therapists; and
Home health aides.
Examples of failing to meet the duty of care include:
Filling a prescription incorrectly;
Not recognizing two prescribed medications may interact in a dangerous manner;
Improperly diagnosing a condition;
Failure to diagnose a condition;
Leaving an object inside a patient during surgery;
Operating on the wrong limb;
Removing the wrong appendage; or
Prescribing a course of treatment not generally accepted by the medical community.
These are just a few examples of what might constitute medical malpractice.  This is not, and cannot be a complete list of potential failures to meet the requisite standard of care.  As long as humans are part of medical treatment, there will be human failures.
Dog Attacks and Personal Injury
In 2016, 31 people died in the United States in dog bite related fatalities.  Just like doctors, dog owners have a duty of care.  However, in Virginia, Maryland, and the District of Columbia, dog bite cases can be challenging.  Of course, where the dog owner is aware their dog has the propensity to bite others, the owner has a duty to protect others from their dog.  "Propensity to bite" is usually proved by a past history of dog bites.  Where a dog is off leash or unattended, a DC dog owner may similarly be found liable for a dog bite.
Obviously, where a dog bite victim may have contributed to the injury, for example, by baiting the dog, this may reduce or negate a claim.   An experienced dog bite attorney is able to assess each individual dog bite case, determining whether a cause of action is appropriate.
Slip and Fall and Personal Injury
"Slip and fall cases" generally involve a situation where a person sustains injury from slipping, tripping, and/or falling where someone has a duty of care.  People, businesses, and the government have a duty to make sure people are safe on their property.  If a property owner or lessee knows there is a dangerous condition or should have known there was a dangerous condition on the property, in an area used by visitors or guests, the property owner should fix the problem or warn people of its existence.
Examples of dangerous conditions include:
Loose rugs or carpets not properly secured;
An unsafe staircase;
Missing handrails;
Clutter, such as magazines or packing boxes in well-traveled areas;
Cords crossing walkways not properly secured;
Wet floors;
Icy walkways;
An unmarked well;
A weak rung on a ladder;
Other conditions which may result in someone slipping on the surface, tripping, or falling. (Note: one does not have to fall to have a case.  Likewise, one does not have to slip or trip to have a case if they fell.)
As with medical malpractice claims, the potential for examples which could lead to trip, slip, or fall cases is limited only by one's imagination.
Product Liability and Personal Injury
Product liability cases involve products that injure people due to a defect or a dangerous condition.  At any point during the creation of the product, product liability may be imposed, depending on who is responsible for the product defect or dangerous condition.  For example, this may occur during product manufacture; the manufacture of parts for the product; the assembly of the product; or something done by the seller which renders the product unsafe.
Product liability cases may involve design defects, manufacturing defects, and marketing defects.  Examples of marketing defects include inadequate safety warnings, insufficient instructions about product use, and improper labeling.  Any product, from cars to toys to pharmaceuticals, can be the subject of a product liability case.
Worker's Compensation and Personal Injury
Worker's compensation cases are a subset of personal injury cases.  Because employers have a duty to employees, courts handle worker's compensation cases somewhat differently than auto accidents, for example. The United States Department of Labor's Occupational Safety and Health Administration (OSHA) governs workplace safety.  Under the law, employers must provide a safe workplace, free of both health and safety hazards.  This includes regularly maintaining machines; providing safety gear, including harnesses and personal protective equipment; providing training in a language you understand; protection from toxic chemicals; and implementing safe work practices, just to name a few.
Technically, a worker's compensation claim is not the same as a personal injury claim.  The biggest difference between the two is that in a worker's compensation claim, one is not entitled to benefits for pain and suffering.  Understanding the difference is very important.  Different laws apply depending on where one is injured and how one is injured.  Sometimes, these two types of claims can overlap.  If injured on the job, you are entitled to worker's compensation benefits, however, if a negligent third party caused the accident, you may also be able to bring a personal injury claim against that individual.
Workers' compensation cases cover injuries that occur at the workplace.  In rare instances, illness can also provide the basis for a worker's compensation case.  When someone sustains injury in the workplace, recovery includes:
medical treatments;
wage replacement benefits;
vocational rehabilitation if they cannot return to their old position; as well as
other benefits.
Construction Accidents and Personal Injury
According to the National Safety Council's Safety and Health Magazine, construction related fatalities accounted for 21.4 percent of all worker fatalities in the United States in 2015, the latest data available.  Put another way, more than three workers die each day in construction related fatalities.  Further, a significant number of construction workers sustain injury on the job each day.  Most common, these injuries stem from incidents involving getting caught in or in between machinery, vehicles, etc.; electrocution; falls; and being struck by something – either a moving object or a falling object.   Constructions accident lawyers should have construction accident specific experience beyond mere workers' compensation claims.  Construction accidents are often the result of construction companies and construction supervisors ignoring a host of regulations regarding proper training, adequate equipment, and implementing safety protocols.
Wrongful Death and Personal Injury
Any type of personal injury claim, from car accidents to dog bites to construction accidents may involve a claim of wrongful death.  Lawyers base wrongful death claims on allegations a loved one lost their life due to the negligent, reckless, or intentional behavior of another person.  This may be an act, such as driving a car, or an omission, such as failing to ensure proper maintenance of safety harnesses at a construction site.  A wrongful death lawsuit seeks to compensate surviving family members for lost wages, medical bills, funeral and burial expenses, pain and suffering the family endured due to their loss, and punitive damages.  Punitive damages punish the wrongdoer for their conduct.  The intent is to deter people (and businesses) from engaging in similar dangerous behavior in the future.
Injured and Wondering if You Have a Claim?
If you are injured and wonder if you have a claim, contact the law office of Hilton &Somer, LLC at (703) 782-8349.  We offer free consultations, so there is no cost to you to discover if you have a legal claim for compensation for your injuries.  Our lawyers have been providing help to people injured in Washington, D.C., Northern Virginia, and Maryland since 1965.  We have the experience and resources to take on your case.  Our personal injury attorneys look forward to speaking with you.
Additional Reading
3 Reasons You May Need a Personal Injury Lawyer