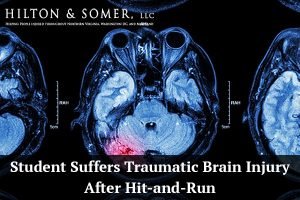 Jared Antle was a normal 19-year-old student at James Madison University, but that all changed on August 24. Around midnight, Antle was struck by an SUV in Harrisonburg. The driver fled the scene, and Antle was rushed to the hospital.
Police Track Down the Driver
More than two months after the accident, police tracked down the driver, 26-year-old Mashkhal Khalid Ibrahim. Police charged Ibrahim with felony hit-and-run for his role in the pedestrian accident that left Antle with a traumatic brain injury.
His Injuries Are Severe
Immediately following the accident, Antle was transported to a hospital in Harrisonburg before being flown to the University of Virginia Medical Center in Charlottesville. According to his family's online journal, Antle suffered a traumatic brain injury (TBI) on both sides of his head, which required doctors to remove two pieces of his skull. He also suffered a collapsed lung.
After a month in the hospital in Charlottesville, Antle was transported to the Shepherd Center in Atlanta, where he has spent his days in an intensive care unit receiving specialized care.
The Long Road to Recovery
It wasn't until 12 weeks after the accident that a doctor told the family that Antle had become conscious. Doctors and therapists have been working closely with, who has a long road ahead of him.
In December, Antle began throwing light objects such as tennis balls and baseballs, and while his physical therapy now involves walking, he must be harnessed into a device that supports some of his weight while he does so.
Outcomes of traumatic brain injuries are often unpredictable. Doctors even classify brain injuries as "a world of the unknown." Antle's recovery process could take months – or possibly even years – and his therapists even said there is no certainty about how what the future holds in store.
Many people who suffer TBI's require extended care, and experience severe symptoms for the rest of their lives. It's uncertain if they'll ever be able to return to a normal life that could include simple functions such as walking and talking, let alone work again. If you or a loved one has suffered a traumatic brain injury due to someone else's carelessness, you need the asistance of experienced personal injury lawyers on your side.
In Antle's case, doctors have said his next goal is to get out of bed, stand up and sit down in a wheelchair with only "minimal assistance."
Traumatic Brain Injuries Require the Expertise of Personal Injury Lawyers in Fairfax VA
Traumatic brain injuries can have devastating effects on not only the victims of pedestrian accidents, but on their family members as well. The primary source of concern is the victim's medical care and recovery. Once a more normal life has been established, though, there are still questions about long-term care and disability that will most likely be present for the rest of the victim's life.
At Hilton & Somer, our personal injury lawyers in Fairfax VA have years of experience dealing with cases of traumatic brain injury. Call us today at (703) 782-8349.
Additional Reading