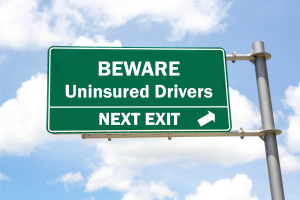 It's mandatory for drivers to carry vehicle insurance in Washington D.C., but that doesn't change the fact that a shocking number of drivers have no insurance or have coverage that does not meet local regulations. The rate of uninsured motorists has been climbing across the nation in recent years, and Washington D.C. has been hit hard. Almost 16% of Washington D.C. drivers are uninsured, putting it in the same group as states like Arkansas, Alaska, California, and Rhode Island. The cost of uninsured drivers can be disastrous for other drivers and passengers.
Washington D.C. Vehicle Insurance Law
Washington D.C. drivers must meet strict insurance requirements or face heavy penalties. The District of Columbia Compulsory/No-Fault Motor Vehicle Insurance Act requires coverage for all registered vehicles. A policy must have a minimum of $10,000 in property damage liability, $25,000 per person and $50,000 per accident in third-party liability, $25,000 per person and $50,000 per accident in uninsured motorist bodily injury coverage, and $5,000 in uninsured motorist property damage coverage.
The D.C. Uninsured Motorist Fund
If you are hit by an uninsured or underinsured driver, there are several ways you can seek compensation. The D.C. Uninsured Motorist Fund is one option to explore. This fund is only open to pedestrians or passengers injured in a crash. It is not available to those driving a motor vehicle at the time of the accident. To apply for compensation through this fund, you must have at least $100 in damages, file a form with the Department of Insurance, Securities and Banking within 45 days, and submit proper documentation.
Uninsured Motorist Coverage
When choosing insurance coverage for your vehicle, consider adding extra uninsured motorist coverage to your plan beyond the legal minimum. This type of coverage protects you if the other driver does not have any vehicle insurance, if the other driver cannot be identified, or the other driver has insufficient coverage to pay your expenses. It pays for property damage and bodily injury.
Personal Injury Case
If you are uninsured or underinsured at the time of the accident, you may have minimal uninsured motorist coverage or no coverage at all. If this is the case, you must file a personal injury case to recover your medical expenses, property damage, and lost income. This is also an option if you have remaining expenses after maxing out your uninsured motorist coverage on your insurance plan.
It's important to meet with a local personal injury attorney before deciding to go this route. They can look at the circumstances of your case and help determine whether or not you have a chance of recovering your money. If a driver does not have car insurance because they make very little money or have no assets, you may struggle to collect damages even if you win your personal injury case. Your attorney can help you compare your options and choose the best route for you.
Call Us If You've Been Hit by an Uninsured Motorist
If you're stuck with car repair bills and medical bills after an accident with an uninsured motorist, let the attorneys at Hilton & Somer take on your case. At our Fairfax office, we strive to help our clients get the compensation they deserve. Call us at (703) 782-8349 to take the next step.
Additional Resources: