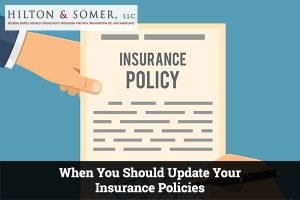 It is a good idea to review your insurance policies at least yearly, when they come up for renewal. At a minimum, you should have a conversation with your insurance agent about such things as:
Is it a good idea to raise the deductible?
Is it a good idea to lower the deductible?
Have all possible discounts been accounted for?
Should the coverage increase?
 Is flood insurance a good idea?
How might an umbrella policy impact rates and coverage?
Updating Your Home Owners Policy
If you make major improvements on your home, such as adding a bathroom or redoing the kitchen, you may need to increase your coverage on your home owner's policy. Particularly if you make a home improvement that increases square footage, such as adding a back room or enclosing a porch, a call to your insurance agent is in order. Obviously, if you add a pool or build a garage, these, too, require an insurance update.
Your home owner's policy also covers your possessions in your home. If you acquire art, antiques, or jewelry, you should contact your insurance agent. While possessions may be covered by a general policy, depending on the value of the acquired item, it might be a good idea to either increase the amount of insurance you have or purchase a policy specifically for the expensive items.
If you enhance your home's safety features, you should also contact your agent. Some insurance policies offer a reduction in premiums if you install a fire alarm or burglar alarm. Updating your electrical, heating, or plumbing systems may also entitle you to a discount.
Updating Your Car Insurance Policy
Obviously, if you have a new driver in the household, the new driver must be put on the insurance policy. Many insurance companies offer discounts to teens with good grades and teens that take a defensive driving course. If your child leaves for college, you may want to update your policy to reflect their reduced time behind the wheel.
Of course, if you welcome a new child into the household, a call to the insurance company might be in order. You may want to check your coverage amounts. The larger the family, the more insurance coverage you need to protect your loved ones.
If you move or get a new job, this may affect your commute length. This, in turn, may affect the cost of your car insurance policy.
Keep Your Policies Up to Date
At Hilton & Somer, LLC, we want you to be safe and protected. You can't always control what happens to you. But you can control the amount of coverage you carry, in the event you are injured. Our attorneys represent injured people every day. We work hard to recover financial compensation for our clients, including medical bills, lost wages, and pain and suffering. We offer free consultations, so there is never a cost to you to find out if you have a case. Call us today to schedule your consultation at (703) 782-8349.
For More Information
Falls in the Work Place – What Every Employee Should Know