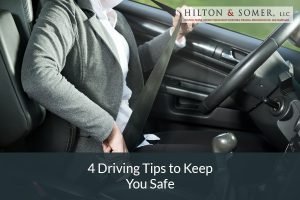 The Federal Motor Carrier Safety Administration (FMCSA) offers safety tips for commercial motor vehicle drivers.  While most of us are not over the road truckers, their advice applies to drivers of cars just as much as it applies to their target audience.
Wear Your Seat Belt
The seat belt is the single most important in-cab safety device.  It protects occupants not only in crashes, but also in cases where your car comes to a sudden stop.  Despite the complaints of some drivers that a seat belt is uncomfortable, the data is irrefutable.  Seat belts save lives and prevent injuries.  Studies show, for example, people are four times as likely to suffer fatal injuries when they are thrown from the vehicle.  Seat belts help keep people securely inside.
Make Certain Your Speed Matches the Conditions
While the speed limit generally reflects the safe top speed on a given stretch of roadway, sometimes conditions make that speed dangerous.  The FMCSA lists these conditions which might merit slowing down:
Wet roadways
Rain
Snow
Ice
Reduced visibility
Uneven roads
Construction zones
Curves in the roadway
Intersections
Gravel roads
Heavy traffic.
Drivers should always evaluate the weather conditions, the road conditions, the current visibility, and traffic levels when determining the appropriate rate of speed.  The FMCSA recommends reducing speed by one third when the roads are wet.  When there is snow packed on the road, they recommend reducing speed by one half.
Keep a Look Out!
"Inadequate surveillance" refers to drivers not looking where they need to in order to safely complete a driving maneuver or failing to see and recognize a danger.  This can happen when changing lanes or turning at intersections.  Every car and truck has blind spots.  Knowing where those blind spots are is essential.  Checking mirrors at least every 5 to 8 seconds, as well as before changing lanes, gives drivers essential information about ever changing traffic conditions.  Additionally, drivers are encouraged to look about ¼ mile down the road on the highway and about 1 ½ blocks ahead when driving in the city.  This gives you plenty of time to respond in a calm and planned out manner to avoid dangerous conditions and sudden stops.  Finally, the FMC encourages drivers to approach intersections with caution.
Avoid Drowsy Driving!
Driver fatigue can result from either physical or mental exhaustion.  It may be the result of lack of adequate sleep, extended hours at work, work that is strenuous, or non-work activities that stress one physically or mentally.  Physical cues of drowsiness include heavy eyes, blurred vision, and frequent yawning.  Research shows being awake for 18 hours impairs drivers the same way having a blood alcohol concentration of 0.08 impairs drivers.  The FMCSA encourages drivers to make certain they get enough sleep before getting behind the wheel.  Even a 10 to 45 minute nap can make a significant difference in restoring energy levels.
Stay Safe
At Hilton & Somer, LLC, we help people who have been injured.  If you have been involved in a car accident or truck crash, our attorneys can help.  We hold bad drivers, careless drivers, and drowsy drivers responsible.  We offer free evaluations, so there is no risk to you to speak with us about your case.  We have a proven track record of recovering lost past and future wages, the cost of medical bills and expenses, as well as money to compensate people for pain and suffering.  Contact us today to discuss your case at 703-782-8349.
Additional Reading:
3 Things your Teen Should Know about Winter Driving