There are miles and miles of bicycle paths around the District of Columbia, Maryland, and Virginia. However, it is difficult to enjoy a bike ride that is completely on bike paths, without any contact with the roadways. Further, not every destination is found at or near a bike path. When biking in traffic, there is always the risk of a car/bike crash. If you find yourself hit by a car, below are some steps to take.
Assess Your Injuries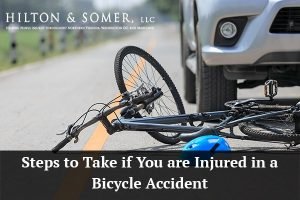 After being hit by a car, take some time to assess your injuries. If you experience difficulty breathing, or if you cannot feel one of your arms or legs, you require immediate medical attention. If you can call 911 yourself, do so immediately. In a situation where you cannot call 911 on your own, ask another person to call for you.
Assess Your Position
If you are in the street and are able to move, get out of the street. The last thing you need is to be hit by another car while waiting for help to arrive. If you have been forced off a path and are not visible to others, move towards the path if you are able. Particularly if you are alone, make every effort to position yourself in a location where you can be seen.
Speak with the Driver
Assuming the driver who hits you has stopped, take the time to gather vital information, including:
Name
Address
Phone number
Driver's license number
Vehicle registration
Insurance carrier
Insurance policy number
License plate number
Make and model of the car
If you need transport to the hospital or other medical assistance, consider asking the driver to stay with you until help arrives.
Document the Scene
Obviously, whether or not you document the scene will be based in large part on the nature and extent of your injuries. You should seek immediately medical attention if you are severely hurt. Another person can take pictures of the scene later if you need immediate medical care. However, if you are feeling up to it, take a few moments to document the condition of your bike, the car, as well as the intersection or roadway where you were hit. If there were witnesses to the accident, ask for their names and contact information.
Seek Medical Help
Even if you don't have any obvious injuries, it is a good idea to seek medical attention. Some physical injuries will not present themselves until hours or even days after a car crash. Seeing a doctor can help identify issues. Take the time to document your injuries as you notice them.
Speak to a Personal Injury Attorney
Last but certainly not least, if you have been injured in a bicycle accident, contact a personal injury attorney who is familiar with car and bike accidents. At Hilton & Somer, LLC, we offer free consultations to those injured in car crashes. We work with clients to recover costs such as medical bills, lost wages, and pain and suffering. Contact the office at (703) 782-8349 to schedule an appointment. We will meet you in our office or, if it is more convenient, we can meet with you in your home or another location convenient to you.
For More Information
7 Steps to Take After a Dangerous Bicycle Accident