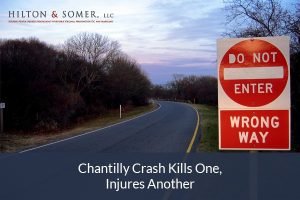 On Friday, February 22, in the early morning hours, two cars were involved in a head on crash on Route 28 and Westfield Boulevard in Chantilly.  It is reported the driver of a 2015 BMW was driving north in the southbound lane when his car collided with a 2005 Acura TL.  The driver of the Acura has died.  The BMW driver appears to have been hospitalized with serious injuries.
Wrong Way Driving – A Very Real Problem
"Wrong way driving" is a very real problem in the United States.  While wrong way driving is responsible for only about three percent of car crashes, these types of crashes are typically more severe than other types of car crashes.  The probability for fatalities and incapacitating injuries is much higher for wrong way driving crashes.  According to the National Highway Traffic Safety Administration's Fatality Analysis Reporting System, an average of 359 people died each year between 2004 and 2011 in 269 wrong way driving crashes each year.
Statistics on Wrong Way Driving and Crash Fatalities
Generally speaking, studies show wrong way drivers involved in fatal crashes have a blood alcohol concentration at or above the legal limit 58 % of the time.  This is almost twice the rate of intoxication for fatal car crashes in general.  Men tend to cause more fatal wrong way driving fatalities than women, with an average distribution of 71 % male drivers and 29 % female drivers.  15 % of wrong way drivers involved in fatal crashes were 65 years of age or older.  18 % of wrong way drivers were less than 24 years of age.  67 % of wrong way drivers were between 24 and 64.
Understanding Wrongful Death Lawsuits
A wrongful death lawsuit is a lawsuit brought for the benefit of a surviving spouse, children, or other family members.  The purpose of a wrongful death suit is to recover damages, including the loss of financial support from the deceased person, funeral expenses, and pain and suffering experienced by the deceased.  One can also recover noneconomic damages in some cases.  However, there are limits to the length of time one has to file a wrongful death suit.  This "statute of limitations" requires those who have lost a loved one file their claim within a fairly short amount of time.
Contact the Lawyers at Hilton & Somer, LLC
No amount of money can actually compensate someone for the loss of their loved one.  However, a wrongful death lawsuit can help ease the financial hardship caused by losing a family member.  No family should have to face financial struggles because of a wrong way driver's careless actions.  At Hilton & Somer, LLC, our attorneys work hard fighting for families in wrongful death cases.  We never charge our clients a fee unless we win their case.  If you have lost a loved one due to a wrong way driver, call our office today to schedule a free, no obligation consultation at 703-782-8349.  You have absolutely nothing to lose.
Additional Reading
Fatal Commercial Truck Accidents Continue to Rise
What You Should Know About Personal Injury and Wrongful Death