A 22-year-old man faces up to 10 years in prison for his role in a Fauquier County accident that caused the death of a local veterinarian. The case not only shocked the region, took the life of an innocent woman and will result in a young man going to prison, it emphasized just how serious drowsy driving can be.
The Driver Fell Asleep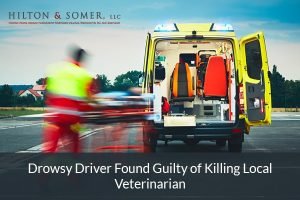 On a January 2018 afternoon, Wilian Alfredo Mendoza was driving from Northern Virginia where he worked as an apprentice plumber to his home in Stephens City. Dr. Kathryn M. Krista was driving in the opposite direction.
At about 3 p.m., Mendoza's vehicle crossed the center lane and struck Krista's vehicle head on. Krista died at the scene.
Eyewitness Brian Ganey, who drove in front of Mendoza's Dodge Durango that afternoon, testified to seeing Mendoza's vehicle cross the centerline more than five times before the accident.
When he saw the collision take place, Ganey pulled to the side of the road and rushed to try to help Krista. He even confronted Mendoza, yelling at him for driving drunk. But Mendoza told Ganey he wasn't drunk, but fell asleep.
Mendoza told arriving officers the same thing, and that he had no recollection of the accident. Toxicology reports confirmed Mendoza had neither drugs nor alcohol in his system.
Drowsy Driving More Serious Than Estimated
It's estimated that 1-2 percent of all crashes are the result of drowsy driving, but the AAA Foundation for Traffic Safety begs to differ. The group released a report in early 2018 saying it believes 9.5 percent of all crashes involve drowsy drivers. The report is based on the number of times drivers had their eyes closed in the minutes leading up to the accident.
More than one-quarter of all people polled in the AAA survey said they admitted to driving drowsy at least once in the previous month, even though 96 percent said they viewed doing so as a serious problem. Driving at a time when you can't keep your eyes open often causes drivers to drift off the road – either into oncoming traffic, medians or off barriers – and can even cause drivers to forget the last few minutes of a trip, as was the case with Mendoza.
Drowsy Driver Will Face the Music
While Mendoza could have faced up to 10 years in prison after he was found guilty of involuntary manslaughter in November 2018, the jury recommended he spend 18 months in prison for his crime. The judge in the case revoked Mendoza's personal recognizance bond following the verdict, and he will remain behind bars until his sentencing.
Let Us Help in Your Personal Injury Case
Being involved in a serious car accident as the result of a drowsy driver can have life-changing consequences. Let us help ease the pressure and stress of dealing with the aftermath. Our personal injury lawyers in Fairfax VA can help you get the justice you deserve. Call Hilton & Somer today at (703) 782-8349 to discuss the specifics of your case.
Additional Reading