The transportation renaissance of the 21st century is not without its own unique controversy, with issues related to car accident fault, insurance and compensation continuing to plague car-for-hire and peer-to-peer companies such as Lyft and Uber. As new issues arise, many are asking – who's liable if an accident does occur?
This is a good question and something that you may need the help of a personal injury accident attorney to answer.
Modern Car Services Avoid Many Local Regulations and Laws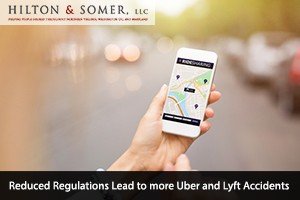 Lyft and Uber are two examples of taxi-like businesses that utilize the power of the smartphone culture to provide for-hire, on-demand rides around the local area. Unlike a conventional cab company, Lyft and Uber utilize the services of amateur drivers who use their own, personal vehicles for transporting people from one location to another. The majority of the vehicles are unmarked, but Lyft does utilize a pink mustache on vehicles being used for the service.
In many communities in Virginia, these car services have recently come under fire, especially from cab drivers and owners who must pay fees and submit to inspections and testing. In the newest model, anyone who needs a ride just has to log onto the Lyft or Uber app to find the closest driver. All the fares for these services are paid through the app, rather than cash – not even the tip. The companies simply claim they are pairing drivers with individuals in need of a ride. As a result, the companies can avoid the majority of for-hire regulations and laws.
What Happens if There's an Accident?
The question is, what happens if a Lyft or Uber driver is involved in an accident? Fault in a car accident, compensation and insurance are all matters of the law for typical cab companies. Both the vehicles and drivers are regulated and licensed by the municipality or state. There are also insurance requirements that must be followed by cab owners and drivers, and there are laws that dictate any accident issues that may arise. For companies like Lyft and Uber, it's basically the Wild West.
Even though Lyft and Uber carry insurance that is applicable to drivers who accept passengers through the service, the insurance is secondary to the driver's personal insurance policy. Additionally, there are some serious issues related to compensation and insurance that come up with a driver is on the clock but doesn't have a passenger.
Hiring an Attorney to Determine Liability
If you are involved in an accident and suffer an injury as a passenger of an Uber or Lyft driver, or are in an accident with one of these vehicles, then it is best to contact a personal injury attorney. They can investigate the case to determine who was at fault and whether you should receive compensation.
To learn more about liability in a ride-sharing accident case, contact Attorney Robert Somer at Hilton & Somer LLC by calling (703) 782-8349.