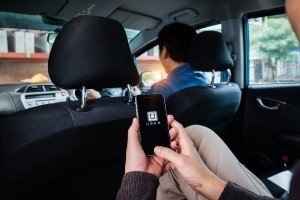 There's no doubt that ridesharing has improved many people's lives. It offers a safe alternative to driving under the influence, minimizes dense traffic in major urban areas, and provides a second income source to drivers. However, the sudden increase in ridesharing has also had an unintended negative effect – an increase in traffic accidents.
What the Research Says
A joint paper produced by Rice University and the University of Chicago looked at a link between traffic accidents and ridesharing. Prior to 2010, fatal car accidents had been trending downward since 1949. In fact, 2010 had the lowest number of traffic fatalities during that timeframe. Since then, car accident fatalities have increased steadily.
The research looks at accident rates in major cities and the date that ridesharing services arrived in each city. Ridesharing services in major cities were associated with a 2% to 3% increase in traffic fatalities.
When Your Driver is at Fault
If your ridesharing driver causes a traffic accident that leaves you injured or limits your ability to work, you should be covered by their commercial insurance policy. Uber and Lyft, the two largest ridesharing companies in the country, both provide $1 million in primary liability coverage for damage caused by drivers while they are on assigned rides.
When Your Driver is Not at Fault
If you're in a ridesharing vehicle such and you're in a crash that is not the fault of your driver, there are several ways you may get your medical expenses and lost income covered. If you have a personal injury policy—which insurance companies in Washington D.C. must offer—it may pay for your medical expenses. The at-fault driver's vehicle insurance policy should pay for your expenses if the other driver is found to be responsible for the crash.
Some insurance companies try to avoid paying out legitimate claims, which can make this process more difficult for car accident victims. Uber and Lyft offer $1 million in uninsured/underinsured driver insurance coverage, which can be used to cover your damages if the other driver has minimal or no auto insurance.
Steps to Take After a Ridesharing Accident
While the process of filing a claim with Uber or Lyft insurance seems straightforward, it's crucial to collect evidence and prepare for the worst in a ridesharing accident. If the insurance company tries to deny your claim, having evidence and legal counsel can improve your odds.
After a crash occurs, report the crash to law enforcement. Get contact information and insurance information from your ridesharing driver and any other drivers involved in the crash. If anyone witnessed the crash—including other passengers in the ridesharing vehicle—take note of their name and phone number. Report the crash to the ridesharing company, and make sure to seek medical attention for your injuries. As soon as possible, reach out to a personal injury attorney to discuss your legal options.
We're Ready for Your Ridesharing Case
If you're not sure what to do after a rideshare accident in Northern Virginia, Washington D.C., and Maryland, we're here to help you. Call the Fairfax office of Hilton & Somer, LLC at (703) 782-8349 to schedule a time to talk about your case.
Additional Resources: