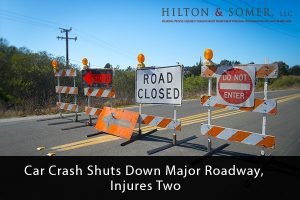 A major car accident in Fairfax County quickly brought the entire road to a standstill. Not only did the accident injure two, it blocked one of the region's most prominent roads right before rush hour. When considering the cost of a personal injury case, it's important to think about every type of damage caused. Beyond just physical injury, a case could hold a driver responsible for damage to public property, vehicle repairs, and lost wages.
Driver Trapped in Vehicle
The February 2019 accident occurred on the northbound lanes of Fairfax County Parkway near Sunrise Valley Drive. Rescue crews responded to the crash within minutes. One of the drivers was trapped in their car, creating an urgent situation for rescuers. Thanks to the hard work of the fire and rescue crew, the driver was extricated from the vehicle within 10 minutes.
Fairfax County Parkway Shut Down Due to Accident
The entire northbound side of Fairfax County Parkway was shut down while rescuers worked to save the trapped driver. All in all, the road was only closed for approximately 20 minutes. Quick action on the part of rescue teams can keep a two-car accident from turning into a fatal multi-car pile up, which is a serious risk when entire roads are rerouted.
Both Drivers Suffered Injuries
Although the accident was serious enough to trap one driver in their car, it had a much better outcome than many others. Two people were transported to the hospital for non-life threatening injuries.
This accident was relatively minor compared to those that claim lives and total vehicles. However, even a minor car accident can cause thousands of dollars in medical bills, car repairs, and lost wages.
What to Do After a Car Accident
After an accident, you may be tempted to refuse medical treatment if you feel fine or the crash doesn't seem serious. Adrenaline can hide serious injuries immediately after an accident, and you may not realize that you need care for several hours. That's why it's essential to get medical attention—even if it seems unnecessary—and start a paper trail that covers all of the expenses you incur as the result of a crash.
The next step is seeking legal counsel. The costs may already seem overwhelming when the bills start hitting your mailbox, but it's unlikely that you've considered the full scope of damage. A skilled personal injury attorney in Fairfax can calculate lost wages, lost potential future income, long-term medical care, and other expenses.
Get the Compensation You Deserve After a Car Accident
Accepting an insurance company's settlement may seem like the easier and less stressful option after a car crash. In many cases, though, the insurance company doesn't have your best interests in mind. You need a team of personal injury lawyers in Fairfax, VA who can advocate on your behalf. Reach out to Hilton & Somer at (703) 782-8349 and schedule your free consultation. We're here to help.
Additional Resources: