Surgery always comes with risks. In many cases, though, the death or serious injury of a patient can be traced back to the action—or inaction—of a medical care provider. A court determined that to be true in the case of Vincent Minor, a patient at Inova Fairfax Hospital.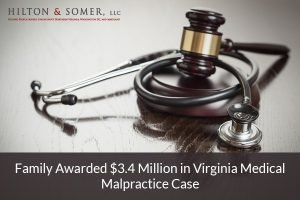 Minor underwent gastric bypass surgery, which restricts the size of the stomach to reduce appetite and limit food intake, in 2009. In 2015, Minor went to the emergency room for nausea, stomach pain, and dysphagia.
Prior to surgery, Minor vomited gastric content and inhaled some of the fluid. It went into his trachea, airway, and lungs. The patient never woke up from anesthesia, remained on a ventilator for more than one month, and passed away after his parents opted to disconnect the ventilator.
Avoidable Mistakes Led to Disaster
Anesthesia complications are a common risk in minor and major surgeries alike, but the attorneys in this case argued that the doctors did not meet the standard of care. They alleged that the doctors should have emptied the patient's stomach and esophagus prior to beginning surgery. They also claimed that doctors should have stopped surgery as soon as the patient vomited. Doing so, the attorneys alleged, would have prevented the patient from inhaling his own gastric fluid and subsequently passing away.
Doctors' Responsibilities to Their Patients
Patients put substantial trust in their medical care providers, particularly in emergency care situations when pain and fear often leave them unable to make informed decisions. Doctors are expected to maintain a certain standard of care to ensure that each patient is fully informed of their condition, knows the risks of treatment options, and receives care that follows current medical evidence. When a doctor makes the wrong care choice or fails to act quickly enough, a patient or their family may be able to recover medical expenses and other treatment costs.
Personal Injury Cases Can Ease Financial Burdens
In the case of Vincent Minor, financial damages were substantial. Medical bills included the cost of the surgery, anesthesia, and post-surgical treatment. Minor's hospital stay, which was over one month in duration, significantly increased the family's debt. After the jury found the care provider liable for negligence, they awarded the family $3.4 million in damages and accrued interest. Damages covered medical expenses, pain and suffering, and funeral expenses. A medical malpractice attorney can assess medical records to determine liability and figure out a patient's right to compensation.
Reach Out If You've Been Hurt by a Medical Provider's Mistake
A medical provider's mistake can leave you in pain, unable to work, and struggling to pay a mounting pile of medical bills. Rather than fighting with care providers on your own, turn to experienced personal injury lawyers in Fairfax, VA. Reach out to Hilton & Somer, LLC today at (703) 782-8349 to discuss your legal options.
Additional Resources: