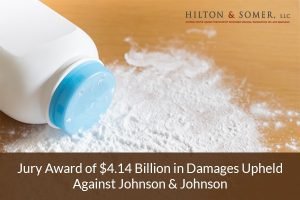 In December of 2018, a Missouri circuit court judge upheld a jury verdict that awarded $550 million in compensatory damages, and $4.14 billion in punitive damages.  At trial earlier this year, the jury heard testimony from 22 women and their families about their ovarian cancer diagnosis, treatment, and prognosis.  The plaintiffs alleged their ovarian cancer was directly linked to Johnson & Johnson's talc products, Shower to Shower and Baby Powder.
While Johnson & Johnson denied liability, the plaintiffs offered proof in the form of documentation that the jury believed established Johnson & Johnson knew for years their talc could be contaminated with asbestos during the mining process.  In fact, testimony established that between 1971 and the early 2000s, Johnson & Johnson's talc had tested positive, both in its raw form and in their finished powders.  Johnson & Johnson has indicated they will appeal the verdict.
Products Liability Claims
The women in this case brought their suit under the theory of products liability.  In essence, they took the position that Johnson & Johnson's product was defective, in that it contained a cancer causing agent.  Further, the lawsuit alleges the cancer-causing agent, asbestos, did, in fact, cause their ovarian cancer.  In addition, the plaintiffs must show the product, in this case, the talc, was "unreasonably dangerous."
Product liability can occur at any stage in the development, manufacture, or sale of a product.  For example, the product may have a defect because of any of the following:
Design Flaw
Manufacturing flaw
Manufacturing flaw of a component part
Assembly errors
Installation errors
Wholesaler errors
Retailer errors.
In any case, where an error causes illness or injury, due to the unreasonably dangerous components of the product, there may be a products liability case.
Damages in Products Liability Cases
In products liability cases, jurors can award two types of damages: compensatory damages and punitive damages.  Compensatory damages are designed to make the injured person or their family whole.  This could include medical costs, lost wages, pain and suffering, and, in the case of a person who dies due to a faulty product, wrongful death claims.  Punitive damages, on the other hand, are designed to punish the designer, manufacturer, wholesaler, or retailer for their conduct.
Have You Been Hurt or Gotten Sick Due to a Product?
If you have been hurt by using a product, or if you have gotten sick, and believe a product you use may be at fault, you may have a products liability claim.  At Hilton & Somer, LLC, we represent people who have been hurt or made ill in products liability cases.  We do not charge a fee to consult with people to help them determine whether or not they may have a case.  Instead, we only charge a fee if we take your case and win an award or settlement.  You have nothing to lose by talking to an attorney.  Call our Fairfax office to schedule a consultation at (703) 782-8349.  We serve the people of Virginia, Maryland, and the District of Columbia.
Additional Reading: