In 2016, nearly 4,000 men, women, and children were killed in large truck crashes. Of these deaths, 66% were occupants of cars and other passenger vehicles, 17% were truck occupants, and 16% were pedestrians, bicyclists, or motorcyclists.
Truck Accident Statistics and Facts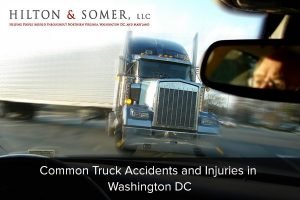 Because of their intense size and shape, commercial trucks pose a serious threat to passenger vehicles on the roadway. A fully-loaded semi-truck can weigh more than 80,000 pounds – more than 20 times the average weight of a passenger automobile.
Commercial truck drivers have a difficult time stopping their vehicles in poor weather conditions, in addition to needing two lanes to make right turns. Some trucks, particularly eighteen-wheelers, are known for jackknifing during the winter. All of these factors place passenger vehicles in danger.
Recent Injuries
A violent truck accident took place in Northeast DC in early 2018, killing 32-year-old DeAngelo Green and injuring a firefighter and pregnant pedestrian.
"I don't know how to tell my kid," Green's wife told local news. "My son is 2 years old. He thinks his father is always going to come through that door, and it's not him."
Police are still investigating the cause of the accident, which involved a responding firetruck and a Honda Accord.
Common Accidents in Washington DC
There are many common causes of automobile accidents. In large metropolitan areas, however, every poor decision presents a heightened risk. Some frequent truck accidents in Washington DC include:
Those caused by inexperienced truck drivers in inclement weather
Those caused by overloaded semi-trucks and tractor-trailers
Those caused by distracted truck drivers in heavy traffic
Those caused by intoxicated or exhausted truck drivers
Driver fatigue is a considerable risk, leading to hundreds of crashes each year. Truck drivers are required by federal law to drive less than 11 hours before resting. Many drivers violate this regulation to work longer than permitted, putting the lives of hundreds of motorists in jeopardy.
Contact an Experienced Washington DC Personal Injury Attorney for Representation
No one deserves to suffer because a truck driver wasn't properly trained, focused, or prepared on the roadway. Drivers responsible for injuring innocent men, women, and children should be held accountable for their actions in a court of law.
If you or a loved one has been injured in a commercial truck accident caused by a negligent driver, contact an experienced Washington DC personal injury attorney for assistance in seeking compensation for your injuries. At Hilton & Somer, we are prepared to fight for the justice you deserve. Call our office at (703)-782-8349. Our team will be fully dedicated to your case, your health, and your well-being.